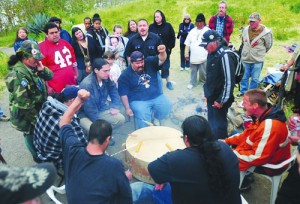 Photo (above) by Chris Riley/ Vallejo Times-Herald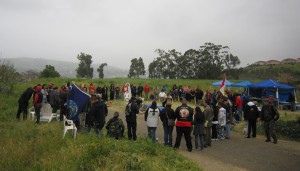 More than 150 people responded to the emergency call for support Monday night – Thank You!
GVRD's plans to desecrate the sacred burial site have not been called off and we ask all our supporters to please remain on alert. We continue to invite all who will join us in prayer to stand with us at Glen Cove as we continue to work on all levels to protect the ancestors from further desecration.
Current requests from the group:
Wood for the sacred fire
Fresh vegetables
Donations to cover sanitation costs
Latest news/video:
KTVU video: Native Americans Continue Protest Over Park Plan – also, there's a related article.
NBC Bay Area: Sacred Land or Parking Lot?
Vallejo Times-Herald: No arrests in dispute over Glen Cove burial site
CBS SF, Channel 5: Native Americans Protesting In Vallejo Park Stay Put (+video)
CNN iReport: Bankrupt California City has found money to Desecrate Native American Burial Grounds
KQED: Both Sides State Their Case in Dispute Between Vallejo and Native Americans (Audio)
Examiner.com: Native Americans ordered end Glen Cove occupation, call for support
Video from 4/15 by Vallejo Independent Bulletin: Native American Action at Glen Cove