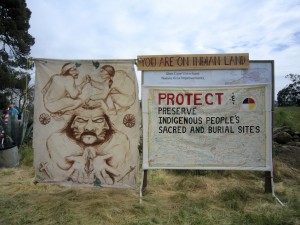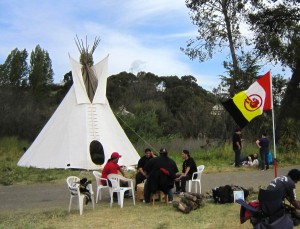 [Also see photos from today.]
As the spiritual gathering being held by local tribal members and supporters at the sacred burial site at Glen Cove in Vallejo entered its sixth day, State Senator Noreen Evans and her staff toured the site and met with leaders of the spiritual vigil. Senator Evans pledged to work with all parties to achieve a just resolution of the ongoing dispute.
Also today, a traditional ceremonial tipi was erected by tribal members next to the sacred fire. The tipi is part of the ongoing spiritual gathering being conducted to protect the burials and culturally significant site from desecration by the development and bulldozing planned by the Greater Vallejo Recreation District.
Over 60 people were at Glen Cove this afternoon, participating in the spiritual gathering and singing traditional and ceremonial songs. Hundreds more have pledged to respond if necessary to stop desecration of the site.

Last night, 200 people came to the site to defend the spiritual gathering and protect the sacred site after GVRD threatened to call in the police to remove people from the site tonight. An agreement mediated by the United States Department of Justice resulted in GVRD dropping their plans to attempt to remove the tribal members and supporters from the site.
Glen Cove is located near the intersection of South Regatta and Whitesides Drive in Vallejo. Click here for directions.