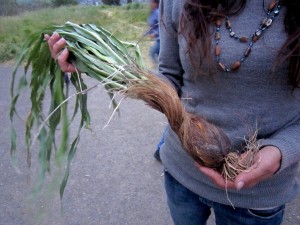 Photos from Day 7 have been posted here.
The spiritual encampment is holding strong. Many California Native brothers and sisters joined us last night from the Central Valley with their songs and medicine, and have vowed to remain. Many prayers and good words were spoken today.
In the evening, a presentation and discussion was held, focused around the United Nations Declaration on the Rights of Indigenous Peoples. Representatives from the International Indian Treaty Council explained the value of taking a rights-based approach to protecting sacred lands and asserting indigenous sovereignty.
Latest articles/media:
KPFA: Bay Native Circle, April 20th – Protecting Glen Cove – interviews hosted by Morning Star Gali
Hwaairfan's Blog: To Stand With Pride and Compassion
SJ Mercury News: Federal mediator steps into fight over Bay Area burial site
The Guardian (UK): Saving North America's sacred sites – the article features Sogorea Te.
Healing arts practitioners: There is a request from some of the Elders for massage. They are making sacrifices by standing with us day and night to guide us, despite difficult health conditions – it is our responsibility to care for them well. Please visit the encampment if you can offer assistance.