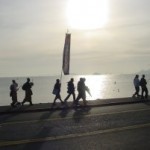 October 22 – November 6, 2011
Diablo Canyon to Sogorea Te/Glen Cove, Vallejo, California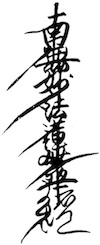 Join a two-week interfaith peace walk from the Diablo Canyon nuclear power plant near San Luis Obispo to the Bay Area. With the tragedy of Fukushima in our hearts, we will walk 15-18 miles a day looking into the safety of land and people along our route, the still-present danger of nuclear weapons, the poisonous nuclear fuel cycle and how to end the nuclear nightmare in California and worldwide.
The Diablo Canyon plant defiled a site sacred to the Chumash people, and native lands still bear the brunt of toxic mining and waste disposal that mark the nuclear industry. Accordingly, the walk ends at an indigenous sacred site of true power, consecrated by years of struggle to protect it from development.
We expect participation of Native elders and activists, Buddhist monks, Japanese people affected by Fukushima, and citizens who have worked for decades to expose nuclear danger and find alternatives to nuclear power. We will learn from each other and from communities along the way. Everyone is welcome to join for an hour, a day or a week. No alcohol, drugs, or weapons.
We need help with lodging, food, organizing local community events, modest expenses, media/communications, and shuttle-transport.
For updates, walk schedule and contact details:
http://CAnuclearwalk.com/

Sponsors: San Luis Obispo Mothers for Peace; Indian People Organizing for Change (IPOC) organizers of the Shellmound Walks in the Bay Area and a successful 110 day vigil to protect the sacred site at Sogorea Te/Glen Cove; Nipponzan Myohoji Buddhist Order