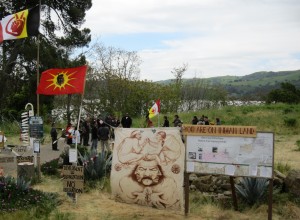 Tribal members at the ongoing Spiritual Encampment and Vigil at the sacred burial site at Glen Cove in Vallejo will hold an Indigenous Peoples Earth Day and Interfaith Gathering this Saturday, April 23, 2011 from 1pm to 5pm. We are inviting the general public to come to Glen Cove for this gathering that will bring together people from many faiths, cultures and religions in support of the struggle to protect Glen Cove from desecration.
In addition to the gathering on Saturday, please come to Glen Cove whenever you can be there to help protect the site. We need people there all the time to keep the encampment going strong!
Sixty tribal members and supporters participated in all-night ceremonies again last night.

On Thursday, April 14th, over 100 people occupied the site and began spiritual ceremonies to stop the planned desecration of the Glen Cove burial and shellmound site. 200 people showed up Monday night to protect the site from a theatened police action – but we prevailed and the encampment remains! A verbal agreement with the Greater Vallejo Recreation District was reached that has allowed the spiritual gathering to continue for now without disturbance.
Please join together on Saturday for a celebration of the effort that so far has stopped the desecration of this sacred area, and to dedicate ourselves to continue the struggle until we win. Bring friends, family, co-workers and food to share! Bring reusable utensils, cups and plates, as it is our intention to create as little trash as possible for folks to haul away.
For directions to Glen Cove, look here.