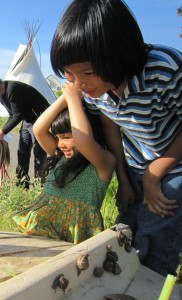 A few photos from today are posted here.
The sun was shining bright today. Many visited the spiritual encampment at Glen Cove, including Tristan Anderson, dedicated Bay Area activist who was shot in the head with a teargas canister by the Israeli military two years ago while doing solidarity work in occupied Palestine. In the evening, some Watsonville Brown Berets arrived, and a group of local native people joined the fire circle, singing traditional songs for hours with their clappers.
Our warmest thanks go out to everyone who has been so supportive in this past week. We thank those who have come from far away to stand with us, and also extend a special appreciation to all the people in the neighborhood and local community who have extended kindness and support, bringing us food, encouragement and good humor.
Legal updates will be posted in the near future – we've been hard at work, but for the moment, not much has changed: no formal agreement has yet been reached with GVRD, and Sogorea Te remains under threat. We are standing our ground, holding ceremonies, growing in numbers, and looking forward to tomorrow with prayer and commitment.
A new informational leaflet was produced and printed today, based on material from this website. It is available here, if you'd like to print it out.