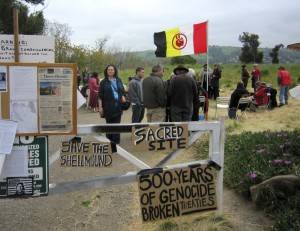 Native Americans Continue Spiritual Ceremonies and Occupation of Burial Site
Dozens of local residents visit and express support for protecting the sacred land
GVRD's Public Relations Fails to Mention Plans to Bulldoze Hill That Likely Contains Human Remains
Participants Conduct Glen Cove Beach Cleanup & Remove Graffiti on Abandoned Mansion
Vallejo, California – The occupation of the ancient burial site at Glen Cove in Vallejo by Native Americans and supporters entered its fifth day on Monday, April 18, 2011 as dozens remain at the site to guard it against desecration by bulldozers.
On Sunday, Native Americans and their supporters conducted a cleanup of the beach at Glen Cove, and also painted over Nazi graffiti that the City had allowed to remain on the old Mansion at the site. Dozens of local residents visited the occupation over the weekend and expressed their support for protecting the burial site. Many expressed outrage that the City was wasting money fighting the Native Americans over this site when other City parks are dilapidated due to budget problems. Supporters brought food and supplies.

The Native Americans are highlighting the fact that public statements by the Greater Vallejo Recreation District in the last few days is very misleading, with GVRD representatives claiming they want to protect the burial site but failing to mention their plans to dig into a hill that likely contains human remains with bulldozers.
The U.S. Department of Justice met with the Native American leadership on Saturday to lay the groundwork for a possible mediation meeting with Greater Vallejo Recreation District on Monday or Tuesday.
The history and cultural value of the site has never been disputed. Native Americans continue to hold ceremonies at Sogorea Te just as they have for thousands of years. The Glen Cove Shell Mound spans fifteen acres along the Carquinez Strait. It is the final resting place of many Indigenous People dating back more than 3,500 years, and has served as a traditional meeting place for dozens of California Indian tribes. The site continues to be spiritually important to California tribes. The Glen Cove site is acknowledged by GVRD and the City to have many burials and to be an important cultural site, yet they are attempting to build a toilet and parking lot on this sacred site and to grade a hill that likely contains human remains and important cultural artifacts. SSP&RIT have asked GVRD to reconsider their plans to grade the hill and build toilets and a parking lot at the site.