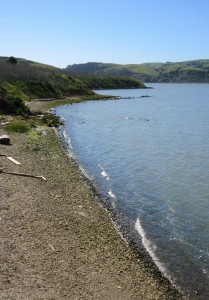 Day 15 : Spiritual Gathering to Protect Glen Cove
Enters 3rd Week as GVRD Breaks Agreement to Negotiate in Good Faith
SSP&RIT Files More Civil Rights Claims Against GVRD as Threats Against Spiritual Gathering and Sacred Site Escalate
As the spiritual gathering and vigil being held by local tribal members and supporters at the sacred burial site at Glen Cove in Vallejo entered its third week, Native Americans working to protect Glen Cove filed more complaints this morning with the Attorney General of California in response to new and serious violations of civil rights by the Greater Vallejo Recreation District.
The organization Sacred Sites Protection & Rights of Indigenous Tribes today filed an addendum to the civil rights complaint filed on April 13, 2011 with the State Attorney General in response to GVRD's attempt to intimidate and limit the number of participants in the spiritual ceremony, attempts to restrict certain ceremonial practices including songs, and GVRD's refusal to negotiate a resolution of the dispute. The new complaint also further documents the presence of cremations as well as burials at the site, highlighting the risk that bulldozing the hill poses to the ancient human remains.

In a major development, GVRD has informed the United States Department of Justice that they will not sign a proposed agreement allowing the ceremony to temporarily continue without threat of arrest, and GVRD has failed to follow through on their agreement to meet with tribal members to try to resolve the burial site dispute.
Tribal members fulfilled their part of what was thought to be an interim agreement, including taking down tents used for sleeping during the around the clock ceremonies. GVRD however has now refused to do anything they had agreed to do, while stepping up the police presence and monitoring of the ceremony.
Support for the efforts of tribal members to protect the site continues to grow. Last night over 50 people gathered for ceremonies and to welcome Mohave and Chemehuevi visitors from the Colorado River Indian Tribes who came to express their solidarity and encouragement. Hundreds of Native Americans and their supporters have pledged to peacefully defend the sacred site in response to any attempt to desecrate the site or remove the ceremony. "I dont believe any of our tribal people would agree to outright grave robbery and disturbing sacred sites. We will not allow it to happen," said Fred Short, Spiritual Leader of the American Indian Movement and a participant in the spiritual gathering at Glen Cove.
Glen Cove is located near the intersection of South Regatta and Whitesides Drive in Vallejo. For more information and directions, visit: protectglencove.org
A copy of the Civil Rights Complaint and Addendum is available by contacting Bradley Angel at Greenaction for Health and Environmental Justice:
(415) 722-5270 or bradley@greenaction.org
Media contacts:
* Corrina Gould 510-575-8408 * Morning Star Gali (510) 827 6719 * Norman "Wounded Knee" Deocampo 707-373-7195 * Mark Anquoe (415) 680-0110
# # #