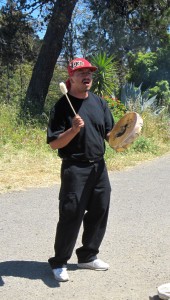 A contractor came by today who told us that his job is to paint a poison
chemical treatment on the stumps of waterfront trees at Glen Cove, once the Atlas Tree Service cuts them down.
GVRD is not only still refusing to meet with the Protect Glen Cove Committee, they are also declining to sign the agreement produced from an initial meeting on April 18th, in which some basic understandings between GVRD and the Committee were established regarding the ongoing prayer gathering at Sogorea Te.
We continue to request the presence of anyone who will join us in prayer, and we are especially requesting that people stay with us throughout the coming two days, Thursday and Friday, as the threat of a possible court-ordered police action is looming.
Some current requests:
– AAA, AA and D size batteries, Socks, Sunglasses, Mountain Bikes, Cedar and Sweetgrass.
– Emails and letters to the Native American Heritage Commission (see next post)
As promised, new photos have been posted from days 11-12.
Also, there is now a Spanish language page on this website.
Latest news/media:
Native News Network 4/27: Send Us Your Chief Approach Should Not Prevail at Sogorea Te
Times-Herald Editorial, 4/27: No Way, GVRD by J.T. Miller, Vallejo Resident
Vegan Reader, 4/27: Protect Glen Cove, A Sacred Native American Site
Examiner, 4/26: Glen Cove Native American rights defenders need 'Superfood'
Indybay, 4/25: Protect Sogorea Te – let the ancestors rest in peace by Francisco Da Costa
YouTube video: Bankrupt California City has found money to Desecrate Burial Grounds
Ontario AIM via YouTube: AIM Ontario shows Solidarity for AIM members in Vallejo, CA