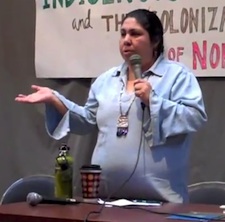 This evening, Corrina Gould, Wounded Knee DeOcampo,
Johnella LaRose, Francisco Dominguez and others spoke about Sogorea Te and Shellmound burial site protection to a very supportive crowd of about 100 people at the Intertribal Friendship House in Oakland. Following the talk, an honoring song was sung for all who have been dedicating themselves to standing strong for the ancestors at Sogorea Te.
Also this evening, Protect Glen Cove Committee members attended a Glen Cove Community Association meeting. A majority of meeting participants expressed support for our efforts. The President of the association also stated that in the first two weeks after the spiritual gathering began, he was flooded with supportive phone calls. (Thanks, callers and residents!)
The GVRD Board of Directors held a meeting at their headquarters today, during which a new resolution was adopted calling for the "closure of the Glen Cove Nature Area to the public during construction and improvements". Again, they continue to lay groundwork for the planned desecration.

Meanwhile, the International Indian Treaty Council sent off an Appeal for Urgent Action to Special Rapporteurs at the United Nations, regarding threats to the Glen Cove Sacred Burial Ground. The letter provides background, details violations of human and indigenous rights, and requests that the Rapporteurs take urgent action, including a visit to Sogorea Te "as soon as practically possible".
Large numbers of additional supporters arrived today — many thanks to all who are coming from near and far to join us, including the traditional singers who visited from the Jackson Rancheria (Me-Wuk).
Special request: We need a driver of a large vehicle with a roof rack to make a trip up to Sebastopol (Sonoma County) to pick up Tipi poles. Please contact us ASAP if you can do this!