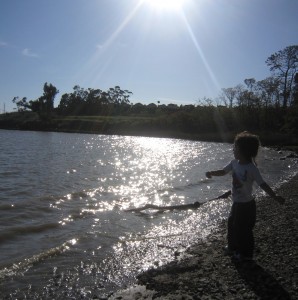 This is the eleventh day that the sacred fire at Sogorea Te (Glen Cove), lit in a traditional manner on April 15th, has been continuously burning, carrying our prayers to the sky.
We were blessed with many visitors today. Pit River and Wintu representatives drove down from Redding Rancheria with a truckload of wood and a massage table. Last night they were in a ceremony up at Pit River territory, and prayers were carried from that ceremony to the sacred fire at Glen Cove. They shared stories, traditional California songs, and provided massages to the weary of our group. Jeremy Goodfeather and Calvin Magpie Jr. also visited today, singing ceremonial N.A.C. songs.
Our team of lawyers has been hard at work, developing legal strategy. Legal updates will be posted in the next few days. Tomorrow (Monday), GVRD and the Justice Department's mediator will have a meeting that excludes the Protect Glen Cove Committee. Following that, we will know whether GVRD is willing to sit down at the table with the Committee, and can take next steps from there.
On a logistical note, support has been requested in the kitchen – reinforcements to help with cooking and cleaning would be much appreciated. There is also a request from Security for beanies to keep heads warm in the evenings.