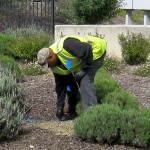 At 10:30am today, two City of Vallejo workers pulled up at Glen Cove. They walked onto the land, spraypainting and placing flags to mark the city's water line. They stated that the work order they received is in preparation for a cyclone fence that will extend all the way to the shoreline. Since this fence would require posts to be sunk down in to the ground, law requires them to identify and mark the location of underground pipelines.
This is another indicator that GVRD, rather than working with us, could be attempting to strong-arm their way towards continuing their planned development.
Latest news/media:
ABC News 10, 4/25: Native Americans try to protect Vallejo burial ground
KCBS 4/24: Mediation Set For Native American Burial Site In Vallejo (with audio)
Times-Herald Editorial 4/25: Waste of Time by Murray McLeod, Vallejo Resident
Times-Herald Editorial 4/25: Amazing by Carla Gallagher, Benicia Resident
Native News Network 4/24: We Cannot Stop Now!