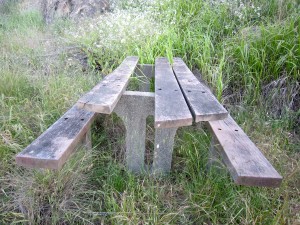 One of about a dozen delinquent picnic tables at Benicia State Recreation Area. GVRD plans to spend thousands for new picnic tables at Glen Cove, less the a mile to the west.
State Parks officials announced yesterday that 70
of California's 278 State Parks will be closed to public access next year, due to budget shortfalls. The Benicia State Recreation Area, located just to the east of Glen Cove on the Carquinez Strait, is one of the parks set to be closed, chosen in part because of under-utilization by the public. Meanwhile, over a million dollars of State and non-profit grant money is being directed by the Greater Vallejo Recreation District towards constructing a NEW waterfront park that will desecrate an area held sacred by Native Americans.
A special strategy meeting was held at Sogorea Te today. 40 people from Vallejo and the greater Bay Area gathered to discuss next steps and possible actions to move things forward, given that GVRD is still refusing to engage with us. Many good ideas were raised, and tasks divided up.
Women of the Sogorea Te spiritual encampment have begun holding womens' circles, cultivating mutual support and addressing issues that arise from the imbalance of there being many more men than women in the spiritual encampment.

The "Red Voice Singers" returned again to sing prayer songs this evening, and the full moon hung bright in the sky, shimmering over the water and setting everything aglow.
Gayle McLaughlin, Mayor of the City of Richmond, visited Sogorea Te with her husband on Mothers Day and received a tour of the grounds. Today her letter to the editor appeared in the Vallejo Times-Herald, stating:
This sacred site in Vallejo offers so much for the City of Vallejo. It offers an opportunity for the city to embrace a very unique place and show that it respects and preserves the history that took place at this site.

Respecting indigenous people's rights, as part of our diverse community in the Bay Area, elevates our multi-cultural experience. We are all enriched with such an experience and are able to better address the critical challenges that we face collectively in the 21st century, like global warming and continuing wars.

I call upon the GVRD to find an amiable solution. As someone who works closely with the Native American community in Richmond, I would be happy to be a part of a meeting to include the Sacred Site committee, the GVRD, and the Native American Heritage Commission Board (in Sacramento). It would be in the interest of all to sit down together, discuss the situation and hopefully come to a mutually beneficial resolution.
Also, we've received positive news from the Cold Lake First Nation blockade:
The Dene Suline of Cold Lake First Nation (CLFN) of Alberta have won an interim injunction to halt construction on campground improvements to be made on Sacred Land — Sacred Land that was being occupied by a "cultural camp" set up on May 6, 2011 by the Dene Suline to prevent the construction of an RV park on their traditional territory.
Latest articles:
Times-Herald editorial, 5/16: GVRD: Find a solution by Gayle McLaughlin, City of Richmond Mayor
Times-Herald, 5/14: Benicia's state parks to close
Rabble.ca 5/16: Update: Dene Suline of Cold Lake First Nation halt the destruction of Sacred Land
Indigenous Action Media video 5/16: Protect Sogorea Te – Protect Sacred Sites
Native News Network 5/16: Lest We Forget: 150 Attend Memorial Ceremony to Remember Bloody Island Massacre of 1850