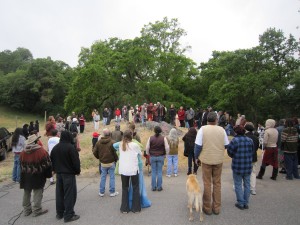 This morning, a dozen participants from the
spiritual encampment at Glen Cove took part an annual memorial gathering at Clear Lake to honor the Pomo Indian people that perished, and those that survived the Bloody Island Massacre of 1850. During the sunrise ceremony, Wounded Knee (Miwok), Fred Short (Ojibwa) and Dedric Thomas (Dakota) addressed the group of about 150 people, explaining the situation at Glen Cove and asking for support and prayers. The Sogorea Te song was then sung with clappers by Mickey Gemmill Jr (Pit River), Naiche Dominguez (Apache/Ohlone) and Dedric Thomas, accompanied by Doug Duncan (Pomo). Following the ceremony and story-telling, three horses suddenly appeared in a nearby clearing, which was seen as a sign that the spirits of Bloody Island had heard our prayers.
Sonoma Dave (Chiricahua Apache) brought yet another jam-packed trailer full of wood today, further reinforcing our spiritual encampment. He explained during evening circle why the hearts of many people including himself are with us in this struggle, and that though he cannot be standing beside us every day, he is contributing in all the ways that he knows how.
At dusk, a light rain began to fall, lifting our spirits and bringing new life to the dry earth. The sharp click-clack of clappers and the melody of many voices singing California (Ohlone and Pit River) prayer songs filled the air.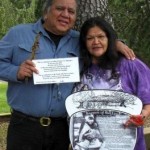 Also today, an announcement was made about Sogorea Te, and "Protect Glen Cove" flyers were distributed, during a community gathering at the Blue Mountain Coalition For Youth & Families Youth Center in West Point, CA. This gathering was held to unveil and dedicate a truth-telling plaque that bears a poem describing Gold Rush era cruelty and genocide, from the Miwok point of view. These acorn-shaped plaques will be installed in public places throughout Calaveras County. Miwok elders and tribal leaders spoke at the gathering, and blessed the land. "For us locally, focusing on the gold rush is as good a place as any to shine a light. A light that is very seldom switched on." More info: Keepers of the Land / News Article / Summary of the Gathering / Photo of the plaque
Photos from today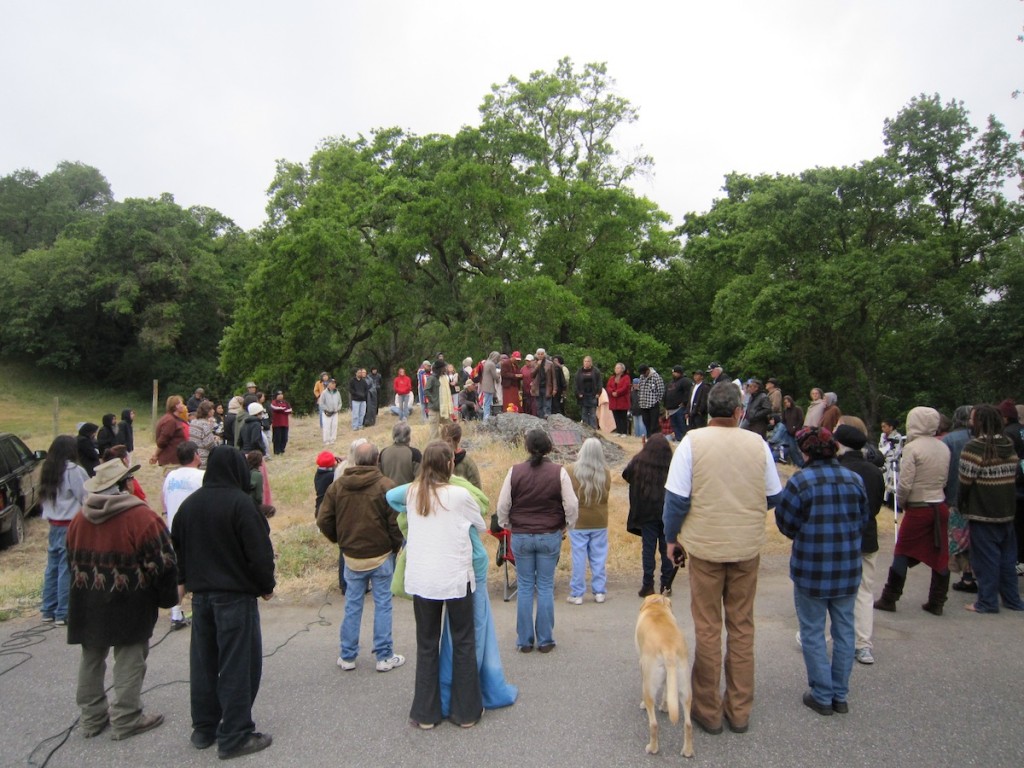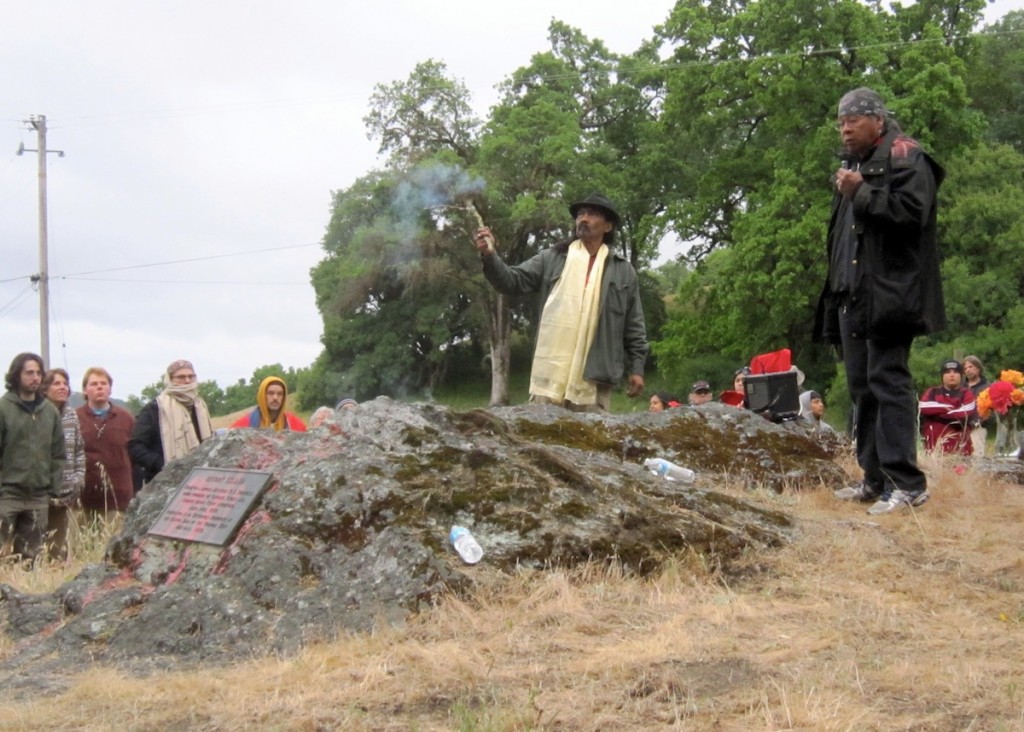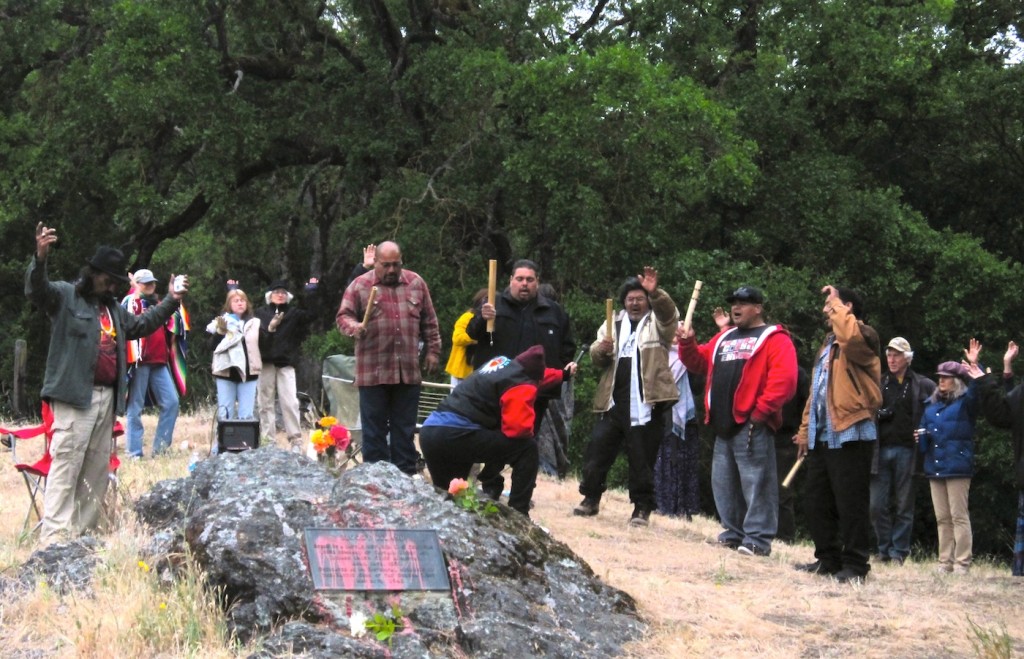 Above three photos: May 14, 2011 Bloody Island Memorial sunrise ceremony — held at Bo-no-po-ti ("Old Island" in Pomo language), now known as Bloody Island, Clear Lake, CA.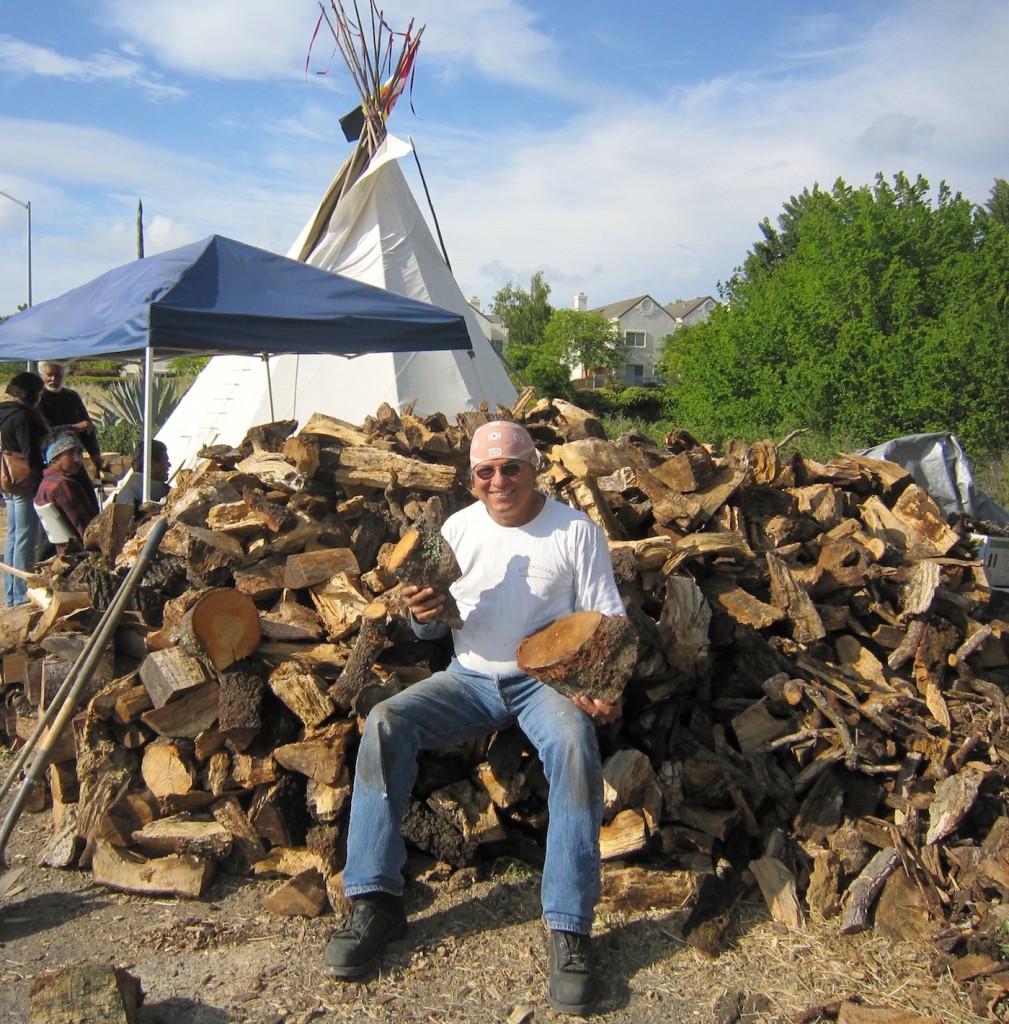 Sonoma Dave and the gargantuan pile of wood that he donated today.