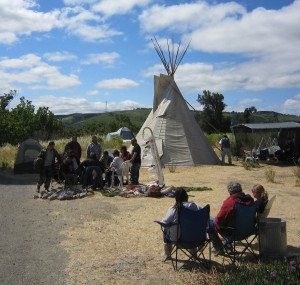 Two Native Hawaiian brothers spent the day at
Sogorea Te – Moses Mix and Mahealani Keale (a folk song-writer), hailing from the islands of O'ahu, Kaua'i and Ni'ihau. They shared a song and warmly commiserated with our struggle as they described some of their own work protecting burial and sacred sites in Hawai'i.
Also today, we received a very special letter of support signed by 47 indigenous people of Hawai'i. "The signatories of this letter are not of any one organization, but represent many different groups, struggles and efforts in protection of our land, culture & people. It is our collective Aloha ʻĀina, love for the land, that we want to share with you as you stand for Sogorea Te."
Mark Anquoe of the International Indian Treaty Council and the Protect Glen Cove Committee is currently in New York City, where he will be presenting about Sogorea Te during the 10th session of the the United Nations Permanent Forum on Indigenous Issues.
Jimbo Simmons and six other participants in the Sogorea Te spiritual encampment spoke and shared songs this evening at the Intertribal Friendship House in Oakland, at an event hosted by AIM-West.
As the green grasses of spring turn golden and brittle, dozens of warriors continue to stand in prayer to honor the ancestors at Glen Cove. We are deeply moved and inspired by recent expressions of solidarity from our indigenous brothers and sisters in Hawai'i, and by the daily outpouring of support and kindness that has not relented since we lit the sacred fire, four weeks ago.
Latest articles/media: