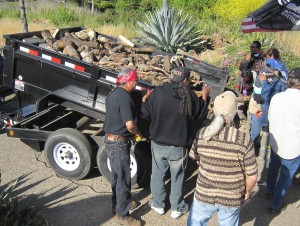 Another massive load of wood was donated yesterday.
The Benally family from Black Mesa, Arizona,
Dine' traditionalists and lifelong advocates for the protection of sacred places, spent the day with us at Sogorea Te. They brought songs, prayers, and encouragement.
Corrina Gould and Wounded Knee DeOcampo spoke at Station 40 in San Francisco this evening to a packed crowd of about 80 people. They were accompanied by a group of singers from the spiritual encampment, who shared the Sogorea Te and AIM honoring songs. Q & A following the speakers was lively, and many young people offered various forms of support.
Latest articles: