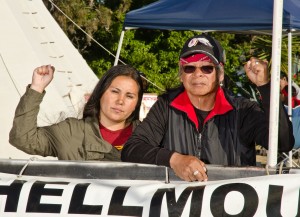 Morning Star Gali and Wounded Knee DeOcampo
An honoring was held today at the encampment
for mothers, women, and Mother Earth. Later in the day, a group of about a dozen Jewish people from various Bay Area congregations and social action groups visited and expressed their support and respect. They shared their religious beliefs regarding death and respect for ancestors, and explained why Jews visit their relatives' graves.
In the evening, we were blessed by the arrival of Caleen Sisk-Franco, Spiritual Leader of the Winnemem Wintu people of Northern California. Caleen offered her support and expressed interest in planning a Salmon Dance with us at Glen Cove in the future.
Morning Star Gali (Pit River), Jimbo Simmons (Choctaw) and others involved with the spiritual defense of Glen Cove addressed the crowd at another Blackfire concert, this time at Point Reyes Station, CA.