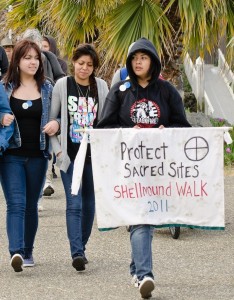 Raven Garcia, leading the walk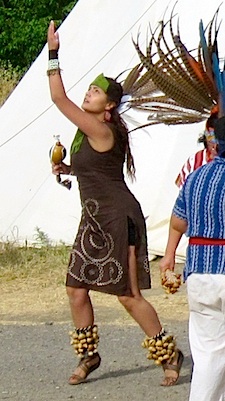 Today's Shellmound Walk covered 10 miles through the
streets of Oakland, praying for the ancestors at seven Ohlone shellmound burial sites. The walk was led by 14-year old Raven Garcia (Pit River/ Paiute), accompanied by Corrina Gould and Johnella LaRose of the Protect Glen Cove Committee and thirty participants.
All seven of the shellmound burial sites visited today in Oakland have been desecrated and paved over with streets, sidewalks, apartments, a public library, an office building, and a bar. The shellmounds at Sogorea Te (Glen Cove) are some of the few remaining Ohlone burial sites in the entire Bay Area that have not been covered by concrete and asphalt.
Today's visitors to the ongoing ceremony at Sogorea Te included Joey and Cecilia Silvas, who drove down from Pit River territory with gifts of sage, cedar, tobacco and food. Theresia Erickson and Zana, a 1978 Long Walker, came down from Eugene, OR bringing smoked salmon, tobacco and a case of Tanka bars (made of cranberries and buffalo meat!). Afghans for Peace kindly brought another delicious traditional Afghan dinner for the group.
Volunteers from the spiritual encampment stopped by dozens of Garage Sales in the Glen Cove neighborhood this morning, passing out flyers and chatting with residents, almost all of whom were friendly and supportive.
A group of Mexica dancers from Santa Rosa, CA have been visiting over the past couple weeks helping out in the kitchen and with security. Today they shared four dances, with prayers and respect to the ancestors at Sogorea Te, followed by a talking circle ("passing the palabra"). They are standing unified with us as indigenous peoples of this continent, helping to fulfill the prophecy of the Eagle and Condor.
Our elder Henry Dominguez and his family returned to Sogorea Te this evening, and a healing ceremony was held with all the 50 or so people who were present.
Latest editorial:
Times Herald editorial 5/06: A vote against 'prettifying' by Luna Gilligan, Vallejo resident