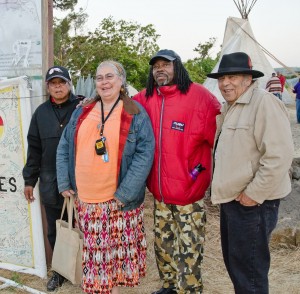 Left to right: Wounded Knee DeOcampo, Mary Jean Robertson, Richard Brown and Tony Cerda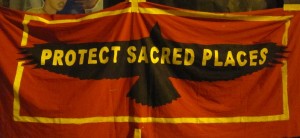 Black Panther and SF8 defendant Richard Brown
visited today, expressing his fullest support for our work. Journalists working for News from Native California took photographs and conducted interviews for hours, which will be featured in their upcoming Summer issue.
Klee Benally (Diné/ Navajo) from the Save the Peaks Coalition addressed the group at morning circle, providing updates regarding the ongoing struggle to prevent the expansion of a ski area and use of recycled wastewater for artificial snowmaking on the holy San Francisco Peaks, in Arizona.
A lawyer who specializes in Native American Federal Law approached the encampment in the afternoon, volunteering his services and support. The Protect Glen Cove Committee has also been in conversation with archeologists who are offering to support our effort to prevent further disturbance of the Glen Cove area.
At dinnertime, we were visited by Tony Cerda, chairman of the Coastanoan-Rumsen Ohlone tribe, accompanied by Mary Jean Robertson (Cherokee), radio host of Voices of the Native Nation. They were welcomed with an honoring song, and Tony Cerda led the circle in a prayer.
Cold, crisp winds swept the grounds at nightfall, and a beautiful crescent moon hung low in the sky. The ceremonial fire has been burning at Sogorea Te for three weeks now. We stand strong in prayer, prepared to remain for as long as it takes.
Latest article:
Times-Herald editorial 5/06: Actions Speak Loud by J.T. Miller, Vallejo Resident

Announcements: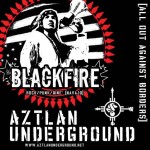 An honoring for women and mothers will be held at Glen Cove on Sunday May 8th, 11am-1pm.
Representatives from the spiritual encampment at Sogorea Te will speak in Point Reyes, CA this Sunday May 8, at another show with Blackfire (Dine' rock/punk) and Aztlan Underground: 7:00pm at the Dance Palace Community Center, 503 B Street, Point Reyes Station.
An informational event about Glen Cove with Corrina Gould and Wounded Knee DeOcampo will be held in San Francisco on Tuesday, May 10 – 7:30pm at Station 40 – 3030b 16th Street, San Francisco.
The Benally family (of Blackfire and Save the Peaks Coalition) will be visiting the ongoing ceremony at Glen Cove on Tuesday, May 10th.