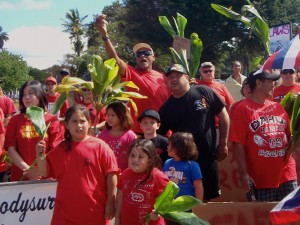 Demonstrating for ʻIwi Kupuna (ancestral burials)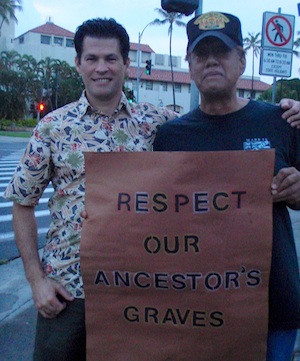 Aloha to our brothers and sisters of
Sogorea Te (Glen Cove) of Moku Honu
(Great Turtle Island).
We are writing to let you know that many hearts, spirits and prayers are with you from Ka Pae ʻĀina o Hawaiʻi, way out in Ka Moana Nui (the great Pacific Ocean).
We feel the heartbeat of your struggle as you stand in protection of the sacred Shell Mounds and ʻIwi
Kūpuna (ancestral burials), and for the blessed land to which your spirits are connected. We dance
in unity with the heartbeat of your struggle from across the great vastness of sea that connects us all. May your works be blessed, now and for all future generations!
Many elements of your sacred struggle resonate with us in Hawaiʻi. We have felt the pain of desecration and disrespect for native culture ourselves, and the Aloha ʻĀina, love for the land, that drives us to stand against this desecration extends to all of you as you make your stand.
Our warriors have fought, and continue to fight, great battles for the protection of ʻiwi at Wailuanuiahoano – where, like you, brothers and sisters are fighting imminent desecration due to park development plans — and Naue, Kauaʻi, where development interests have been building a luxury home upon the bones of our ancestors, at a sacred leina ka ʻuhane point at which spirits jump into the next world to join their family as ʻaumakua (guardians). A similar struggle is taking place at Kawaiahaʻo, Oʻahu, where a church's plan for a multipurpose center is impacting hundreds of remains. We are preparing for battle over an elevated rail project that threatens untold hundreds, or possibly thousands, of burials. Longstanding battles over ʻiwi at Mōkapu (a military base from which wars are launched across the whole world); Ahuena Heiau, where bones are being washed up on to the shores of Hawaiʻi Island; and many other important burial sites have also been ongoing for decades.
Similarly, we are also battling for the protection of some of our most ancient and sacred temples and sacred landscapes. Notably, there is a great and ongoing battle to protect Mauna Kea, the tallest mountain on Earth when measured from the bottom of the ocean and the resting place of our most revered ancestors, and Haleakalā, Maui's highest mountain, from the over-zealous development of enormous mega-telescopes. Our practitioners are still struggling to heal Hālawa, Oʻahu, birthplace of Papahānaumoku (Hawaiʻi's Earth Mother), after the construction of the most expensive freeway per mile on Earth (built for swift military deployments), which we know will not last nearly as long as the destruction it has caused. Meanwhile, geothermal development threatens the sacred lands and fire of our revered goddess, Pele. The Western tip of Oʻahu, Kaʻena Point, has also been harmed in the name of "environmental protection", including the violent harassment of cultural practitioners and the recent erection of a monstrous fence, which cuts through Oʻahu's most sacred leina ka ʻuhane site, into the ocean.
Meanwhile, like you, our greatest battle is the daily struggle to teach our children to remember that we walk in the footsteps of of our ancestors, and that they live within us. We strive, as you do, to teach them the ways of our kūpuna; to ensure that they will inherit a world in which they can thrive and help others to thrive; and to do as much as we can now in order to lighten the great burden that their generations will have to bear, due to the poor choices being made by the civilization in which most of us live. We work to ensure that they will know in their hearts and spirits that a relationship to the land does not necessitate the building of a park, but the protection of the ʻāina and her people – past, present and future. We strive alongside you to help them to be the torch-bearers for future generations.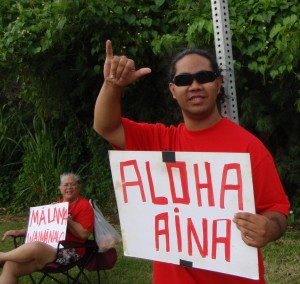 Aloha ʻĀina = Love of the Land
Our battles are many. They are hard and often brutal. However, like you, our love for the land is stronger than all of the hardship, wrongdoings, ethnocide and brutality that comes in the way of our protection of that which is sacred. As kupuna Harry Mitchell once famously wrote, kauliʻi makou, nui ke aloha o ka ʻāina — we are few in number, but our love for the land is enormous. Like you, we are strengthened in the knowledge that we are here forever, and that we will continue to persevere until both land and people once again thrive together, enlightened by the wisdom of our kūpuna. And we are strengthened by the knowledge that brothers and sisters are standing for the protection of land and culture, as you are standing at Sogorea Te.
The great love, bravery and perseverance of our warriors who stand against desecration reverberate with you as you make your stand. May you be blessed with vision, strength, understanding, guidance, mana and joy as you stand in protection of the land that you love. And may the great cosmos turn the hearts of humanity to stand with us all.
Me ke aloha,
Puanani Rogers
Pono Kealoha
Toni Auld Yardley
Kawehi Kanui
Paul Kealoha Blake
Steven Tayama
Laulani Teale
Val K.Ching, Jr.
Tane Inciong
Kealaula Cockett
Kihei Soli Niheu
Kai Landow
George Kahumoku Flores
Summer Kaimalie
Hale Mawae
Mālia Helelā
Hanaloa Helelā
Noa Helelā
Maleko Mark Swearigan
Terri Kekoʻolani
Karen Murray
Vince Kanaʻi Dodge
Darlene Rodrigues
Lynette Cruz
Alyce Dodge
Dr. Kekuni Blaisdell
Mahina Rapu Tuki
Kamuela Vance
Evern Williams
Pete Sayer
Kyle Kajihiro
Richard Rodrigues
Emily Kandagawa
Kealoha Pisciotta
Keomailani Von Gogh
Louise Sausen
Scott Wong
Hanalei Fergerstrom
Mark Kamakea
Isaac Paka Harp
Kaʻiulani Mahuka
Russell Pineapple
Krista Steinfeld
Rayan Leina'ala Wilson
Shannon Beamer
Beki Light
And many others dedicated to the protection of the ʻāina, people and culture of Hawaiʻi nei.
E kūpaʻa pono kākou me ke aloha mau loa aku – Let us all stand firmly with continual love

Please note:
Additional signatures are still coming in. Please check again soon!
The signatories of this letter are not of any one organization, but represent many different groups, struggles and efforts in protection of our land, culture & people. It is our collective Aloha ʻĀina, love for the land, that we want to share with you as you stand for Sogorea Te. Blessings!!!
This statement was re-posted from Aloha Revolution, May 2011.