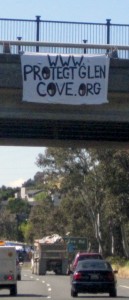 There is a new Frequently Asked Questions page on the Protect Glen Cove website, designed to address GVRD's recent propaganda, and questions that have been coming up often in the past few weeks.
Members of the Cultural Resource Department of the Shingle Springs Rancheria (Miwok) brought a large truck-load of wood down from El Dorado County and spent the day with us. Dozens of other visitors came by, many receiving tours of the grounds. Volunteers leafleted for a few hours at the Vallejo Farmers Market, talking with many people (including MC Hammer!) about Sogorea Te and inviting them to come out for a visit. An Afghan woman surprised us with delicious food for dinner.
A large group of women from the social justice organization Bay Area CodePINK will be arriving in Vallejo Sunday evening, after a day of marches and occupations in support of the International Workers Day strike. On Monday morning, they will march from downtown Vallejo to Glen Cove, to express solidarity with the Native American struggle to prevent the desecration of Glen Cove. A rally and press conference will be held at noon.
A PDF of the recent Addendum to the Civil Rights Complaint filed against GVRD and the City of Vallejo has been added to the Links and Resources page, along with a 4/25 Letter on the Legal Standing of Native American/ Ohlone individuals and SSP&RIT by the International Indian Treaty Council.