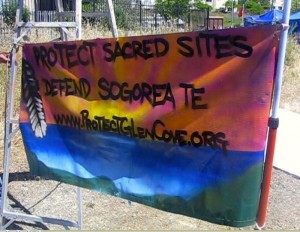 It was a very social Sunday. Internationally
acclaimed actor Michael Horse and his partner Pennie Opal Plant from Gathering Tribes Art Gallery in Berkeley paid us a visit and donated much needed supplies. Artists from Oakland donated two spray-painted banners. A limo pulled up to the gate, full of DJs from a local radio station, who visited and brought us fruit. Then a trio of Mormons appeared–after being informed that proselytizing to our participants was forbidden, they joined us for a short while.
Doug and Clayton Duncan from Robinson Rancheria and Gary Thomas of the Elem Pomo Roundhouse shared the story of the massacre of their ancestors at Bloody Island and offered songs. Their family members sang healing songs and danced in honor of the women, accompanied by prayers offered by a Taino Elder from Puerto Rico.

The Security Committee, which includes youth from several California tribes, introduced the new "Sogorea Te" song to the group circle. People from our encampment spoke at May Day rallies in San Jose and San Francisco, distributing flyers and getting the word out about our spiritual defense of these sacred grounds.
Local Glen Cove Residents showed up to support our vigil and provided us with BBQ meat and lasagna for dinner. Phil Klasky, American Indian Studies professor at San Francisco State also brought generous dinner donations. The Red Voice Singers offered Prayer songs at the end of this hot Sunday.
Prayer and attention is being directed towards our friend and long time activist John Powers, who despite deteriorating health, has been participating in our ongoing ceremony to protect Sogorea Te.
We again wish to express our gratitude to everyone who has participated in our struggle, on the land or from a distance.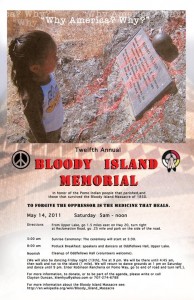 Announcements:
A Mothers Day / Honoring Mother Earth event will take place this coming Sunday, the 8th at Sogorea Te. Details TBA.
The Twelth Annual Bloody Island Memorial in honor of the Pomo Indian people that perished and those who survived the Bloody Island Massacre will take place on Saturday, May 14th.