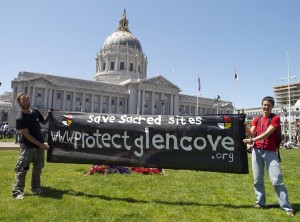 CodePINK demonstrators marched from
downtown Vallejo to Glen Cove today, arriving at about noon. They are en route to the State Capitol in Sacramento to set up a tent city, demanding an end to tax-breaks for corporations and taxes that fund war. They were welcomed at Glen Cove, and provided with lunch. A pipe ceremony was then held to honor and thank them for their efforts to confront injustice, and for their support of our struggle.
In the evening, Winnemem Wintu and Hupa representatives visited with encouraging words, prayers and special traditional songs sung around the fire.
Meanwhile, GVRD put out a press release today, announcing a new website and Facebook page designed to promote their park development plan to the public. They are attempting to keep up with what they call the "inexplicable dissemination of misinformation" about their plans for Glen Cove. Their website doesn't even work. No media outlets appear to have picked up the release, and its only available online because GVRD paid to use the "Business Wire" press release distribution service.