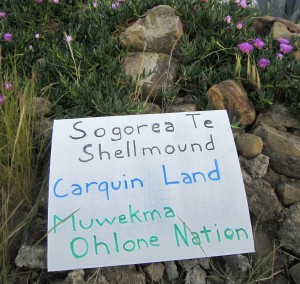 Photos from the day are posted here.
Many new supporters arrived today. In the morning, tasks were divided up and much was accomplished. Cleanup crews walked the shoreline, hauling away 200 more pounds of rubber tires, trash, and broken glass, then cleaning and organizing the kitchen and grounds. New banners were painted and a banner was dropped over Interstate 780 at the Glen Cove Road overpass. Others handed out flyers downtown and at the nearby Safeway store.
At lunch, the group feasted on fresh-caught sturgeon from the Carquinez Strait and smoked salmon that was brought down from Pit River territory. A story-telling circle was held after lunch, during which experiences of 70's era indigenous struggles were shared.
A group of young women from the Oakland-based American Indian Child Resource Center's "Daughters of Tradition" program visited today and Corrina Gould gave them an educational tour of Sogorea Te. Police officers and a utility company worker stopped by today, uneventfully.
Excerpt from an article in today's Vallejo Times Herald, reporting on GVRD's Thursday meeting:
The [GVRD] board passed, without discussion, a resolution to fence off the Glen Cove Nature Area, also known as the Glen Cove Waterfront Park, during construction and improvements planned for the site. McAffee explained that the closure was designed to protect the public's safety and health. The construction start date remains in flux, McAffee said after the meeting.

The park has received much public attention recently, as plans to begin construction have been delayed due to on-site protests by a Native American representatives, and particularly a group named Sacred Sites Protection & Rights of Indigenous Tribes.
Latest articles:
Times-Herald editorial 4/30: Do the right thing at Glen Cove by Kim DeOcampo
Native News Network 4/30: Supporters Arrive at Sogorea Te to Demonstrate Support
Times-Herald editorial 4/30: The real story on Glen Cove
Times-Herald 4/29: Greater Vallejo Recreation District to delay special tax election until 2012
New American Media 4/30: Native Americans Protest Plans to Pave Over Sacred Site
Related news from Kaua'i 4/28: Work continues after bones, artifacts unearthed