November 12th, 2010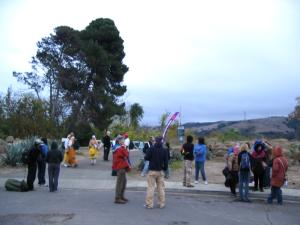 Emotions ran high as Vallejo police responded Thursday morning to a disturbance between Native American protesters and workers hired to survey the land over an ancient burial site.
Although several squad cars responded to the controversial Glen Cove Waterfront Park site, no one was arrested or cited, police said.
"Emotions were high on both sides, but no threats were made," Vallejo police Sgt. Kenny Park said.
The confrontation stemmed from an ongoing dispute over how known Native American cultural resources should be protected as plans move forward to add trails, benches, bathrooms and a parking lot to the park.

The trouble started about 8 a.m. when trucks arriving at the site were met by a gathering of about 20 Native Americans.
The workers were there to test the soil for possible environmental hazards stemming from an aging underground gas tank. Last year the tank was filled with concrete, but some contamination was detected.
Greater Vallejo Recreation District officials said a county agency ordered them to conduct the drilling. But skeptical project opponents demanded documentation backing up that claim.
The protesters also objected to any work being done that day because the designated Native American representative monitoring the project was unable to be there.
Among the protesters was Bradley Angel, of the environmental group GreenAction, which has gotten involved in the controversy. Angel said he feels it is important for GVRD to know it is being watched.
"Were they really required by the county to do the testing they are doing as they claim?" Angel asked. "Where's the paperwork to show that?"
GVRD officials said Thursday they would respond to the request.
Angel also suggested Thursday that the city's planning department obstructed the public's right to appeal the project, which was approved June 28. City and GVRD officials denied that claim.
"We have an e-mail from (city planner) Bill Tuikka and Randy Anderson of (park developer) Alta Planning + Design, that says he doesn't think any of the Native Americans will figure out there was an appeals period. We find it quite shocking," Angel said.
Tuikka and GVRD director Shane McAffee said Angel and his followers misinterpreted the communication.
"If someone did their due diligence, they would have known about the appeal process," Tuikka said.
The June 29 e-mail, which Angel obtained through a public records request, reads:
"Yes, there is an appeal period, which would end on July 8th (2010). I do not anticipate that this will be appealed. I don't believe that any of the Native American groups are going to pay the appeal fee and go forward with a formal appeal.
"We did not send out any more formal notice than the original notice, so I would believe that most people assume that we approved the project before June 28. The original notice stated that the project would be approved on or after April 12, 2010. Most people would assume that they would need to appeal by April 22, and no one did."