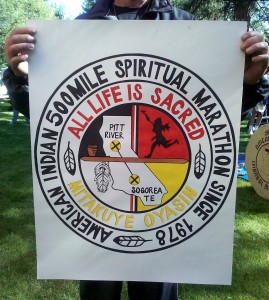 Today marks 67 days of prayer and continuous
tending of the ceremonial fire at Sogorea Te. While meetings and strategy discussions are held in the background, dozens of committed native and non-native people remain present on the land in prayer. A steady stream of supportive visitors continues to pass through daily with donations and words of encouragement. Some stay longer, to share songs and stories, teach skills, help out with chores, cook a meal for the group, or offer prayers.
Early this morning, the 33rd annual 500 Mile American Indian Spiritual Marathon departed from Pit River Territory in Northern California. The runners are scheduled to arrive at Sogorea Te (Glen Cove) in Vallejo on June 23rd, as their final destination, after passing through the Mount Shasta area, along the Sacramento River and the shores of Clear Lake. The marathon's main purpose is "to carry the message of the sacredness of all life, our relationship to all living species, and of the need to maintain the delicate balance that exists between humankind and our Mother Earth."
This weekend, participants in the ongoing vigil at Glen Cove attended many public events in the Bay Area, the Los Angeles area, and in Northern California, speaking and distributing flyers about the ongoing struggle to protect Sogorea Te and many other sacred places and burial grounds in the Bay Area and beyond.
Bay Area events this weekend included the first ever Big Time Gathering in San Francisco, hosted by the Rumsen Ohlone tribe, accompanied by dances from the Elem Pomo and Pit River Maidu tribes. During this gathering, Corrina Gould (Ohlone) spoke on a panel about the work of protecting her ancestors burial and sacred places, and about the current struggle to protect Sogorea Te (Glen Cove). A ceremony was held to honor the Native American ancestors who are buried under the Yerba Buena Center for the Arts, where the gathering took place.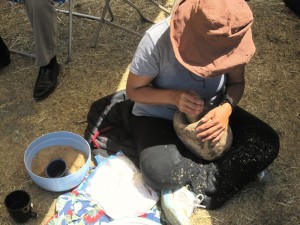 Grinding Valley Oak acorns.
On Wednesday and Thursday, a workshop on beadwork was held at Sogorea Te, during which participants of all ages created broaches, necklaces and other jewelry. Also Thursday, another group of fishermen donated a 14lb striped bass to the spiritual encampment, freshly caught in the Carquinez Strait. During the past week at Sogorea Te, Valley Oak acorns were ground in stone mortars, and Arroyo Willow, Bush Mallow, Eucalyptus and Plantain were gathered from the land as ingredients for herbal medicines.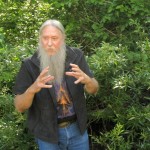 Last Sunday, local wildlife biologist and cultural anthropologist Jim "Doc" Hale met with members of the Committee to Protect Glen Cove. The group accompanied Doc as he assessed the flora and overall ecosystem health of the creek that flows through Sogorea Te, pointing out many thriving native riparian tree species, including Alder, Cottonwood, Willow and Northern California Walnut. Later this month, a creek cleanup and habitat restoration will be conducted at Sogorea Te by volunteers, with the oversight of indigenous leadership.
Throughout the past week, volunteers have distributed flyers about protecting Glen Cove and upcoming events throughout downtown Vallejo, Benicia, and the East Bay. On Saturday the 18th, Tino DeOcampo handed out flyers and spoke with people about Glen Cove at the annual Juneteenth Celebration (to commemorate emancipation from slavery) in downtown Vallejo. Flyers were also distributed on Saturday at the Annual Northern California Pirate Festival, at the Vallejo waterfront.
Many exciting Glen Cove-related events will be held in the coming month. Here is an overview of upcoming events that we have details about at this time: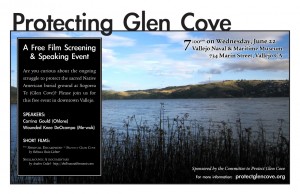 Flyer for Film Screening/Speaking event in Vallejo.
Wednesday, June 22 – Vallejo, CA: "Protecting Glen Cove" Film Screening/ Speaking Event. Corrina Gould (Ohlone) and Wounded Knee DeOcampo (Miwok) will be speaking, and two short films will be screened: "Shellmound" by Andrés Cediel & "The Spiritual Encampment to Protect Glen Cove" by Rebecca Ruiz-Lichter. For more information, look here. 7:00-9:00pm at the Vallejo Naval & Maritime Museum, 734 Marin Street, Vallejo.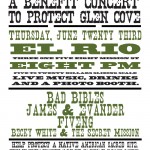 Thursday, June 23 – San Francisco, CA: Benefit concert for Sogorea Te, presented by Rainforest Action Network and Wiretap Music. "This fun evening will include live music, drinks, photo booth, plus brief speakers offering updates and background on this important and quickly evolving Bay Area issue." For more information and a flyer, look here. You can also RSVP on Facebook. 8:00pm at El Rio (3158 Mission Street @ Cesar Chavez, SF). $5-20 sliding scale admission.
Saturday, June 25 – Oakland: Workshops, speakers and discussion about protecting Bay Area watersheds and the Sacramento/San Joaquin River Delta. Corrina Gould (Ohlone) will be one of the presenters. Time TBA, at the Sustainable Living Center, 1121 64th Street (at San Pablo). For more information, email floatingshoe [at] gmail.com
Friday, July 8 – Oakland: Film Screening/ Speaking event. Corrina Gould (Ohlone) and Wounded Knee DeOcampo (Miwok) will be speaking, and two short films will be screened: "Shellmound" by Andrés Cediel & "The Spiritual Encampment to Protect Glen Cove" by Rebecca Ruiz-Lichter. 7:00pm at the Intertribal Friendship House, 523 International Blvd.
Latest articles/links
Some photos from the past week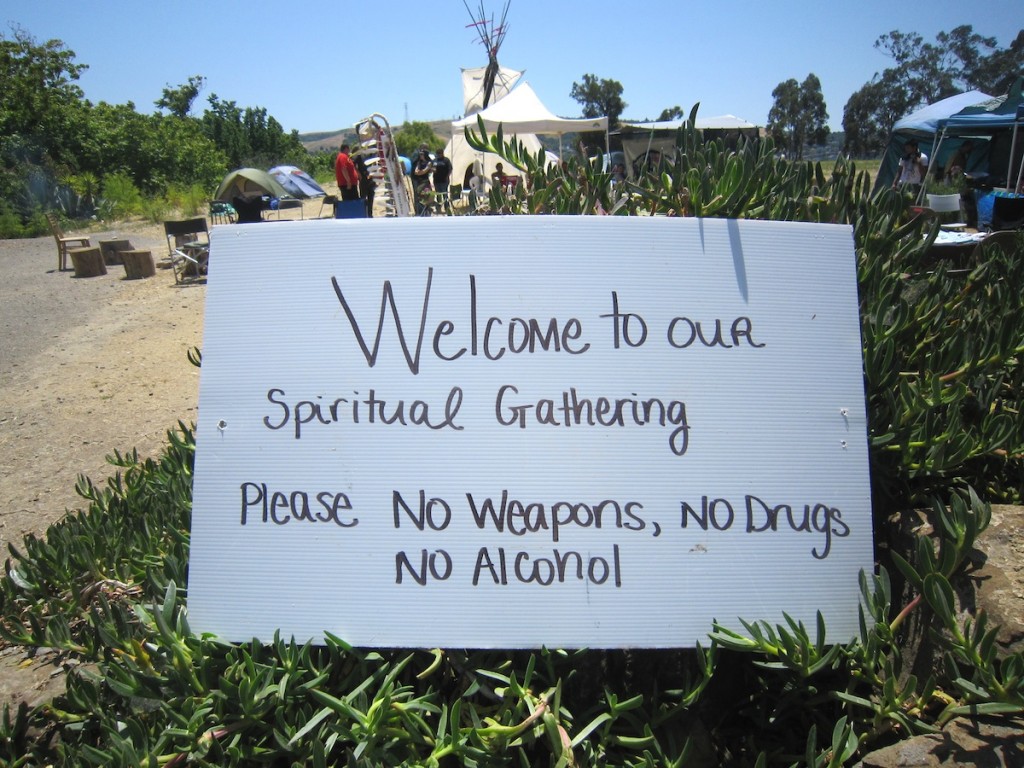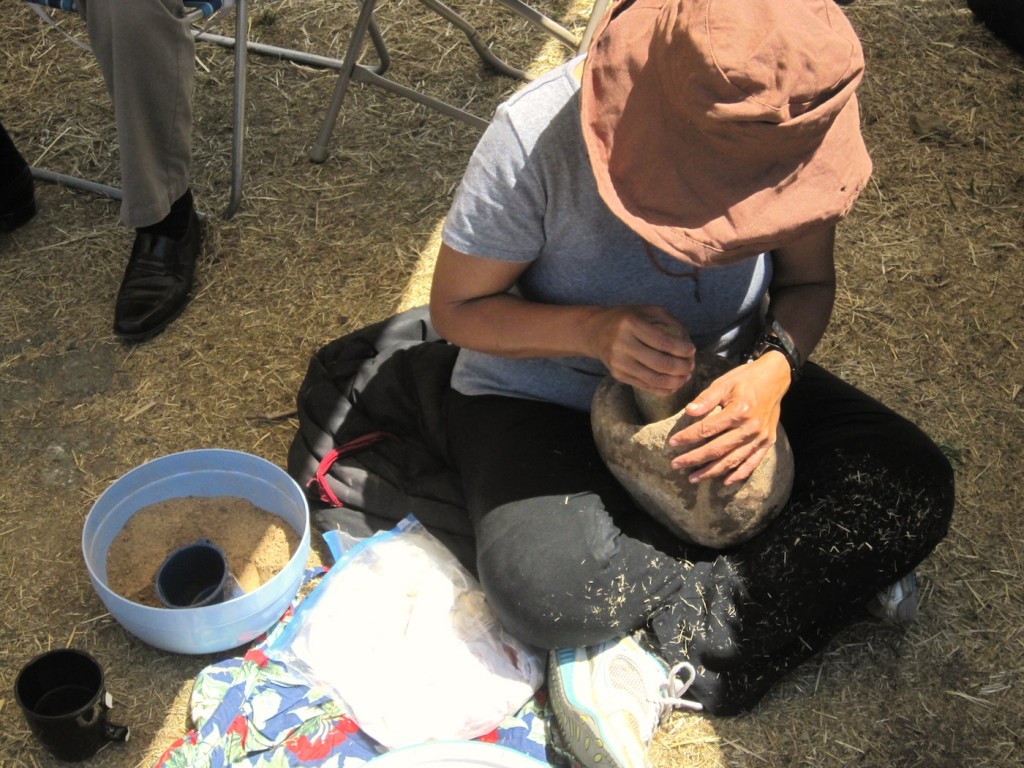 Grinding Valley Oak (Quercus lobata) acorns at Sogorea Te.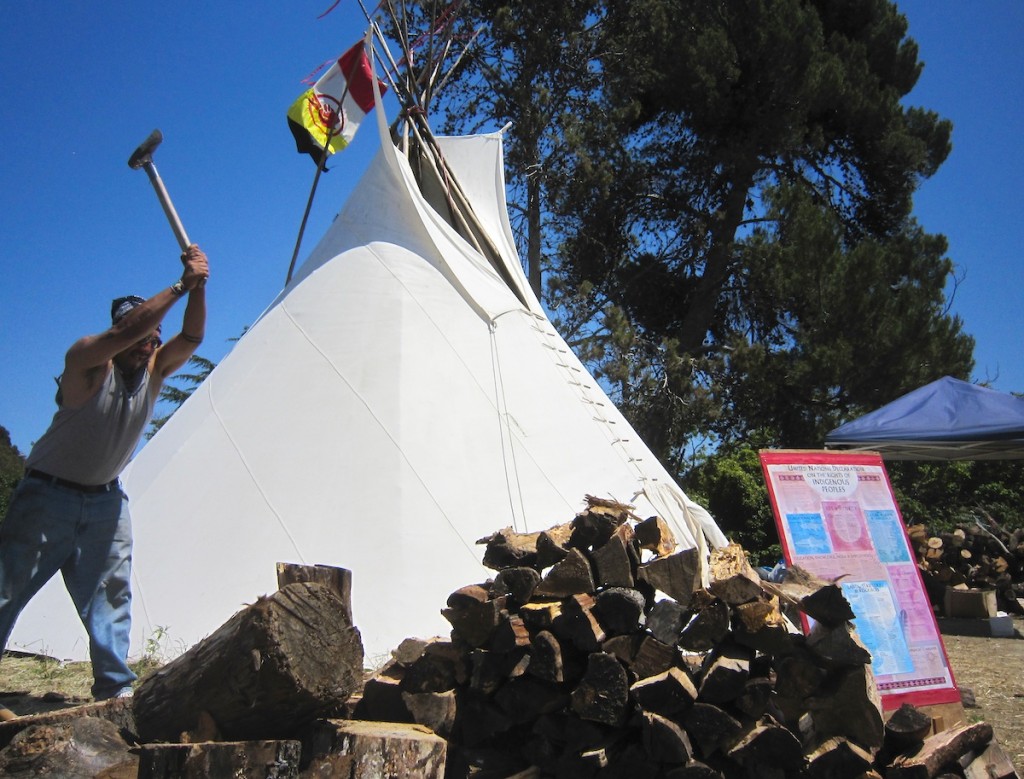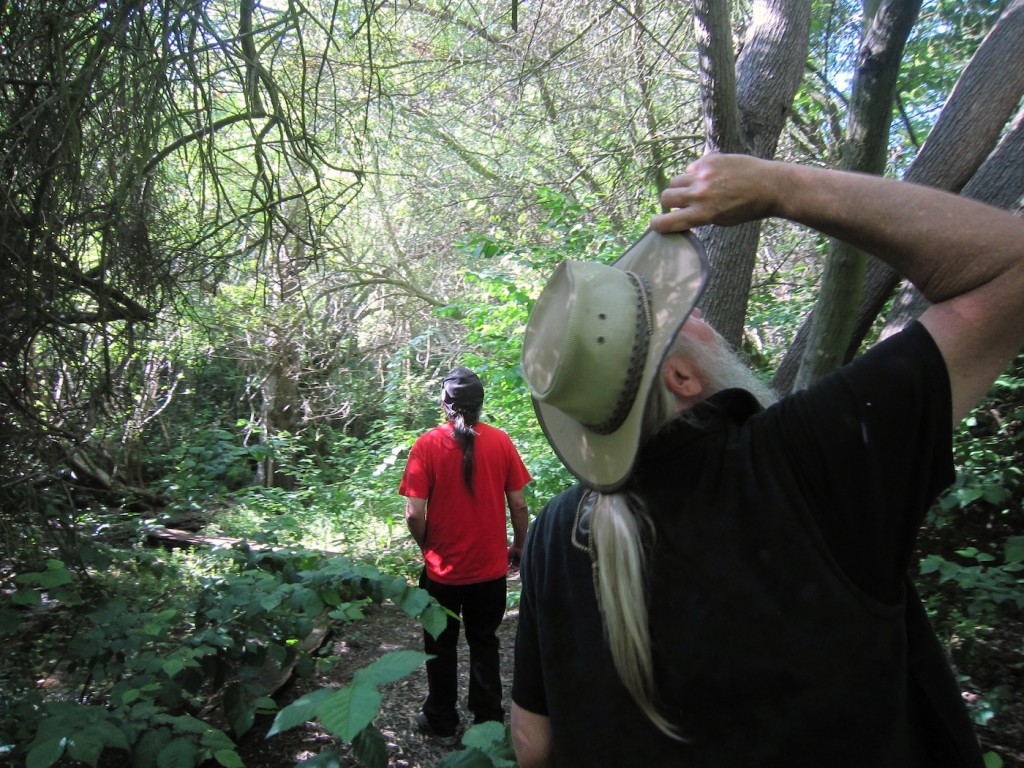 Jim "Doc" Hale, surveying the riparian canopy at Sogorea Te.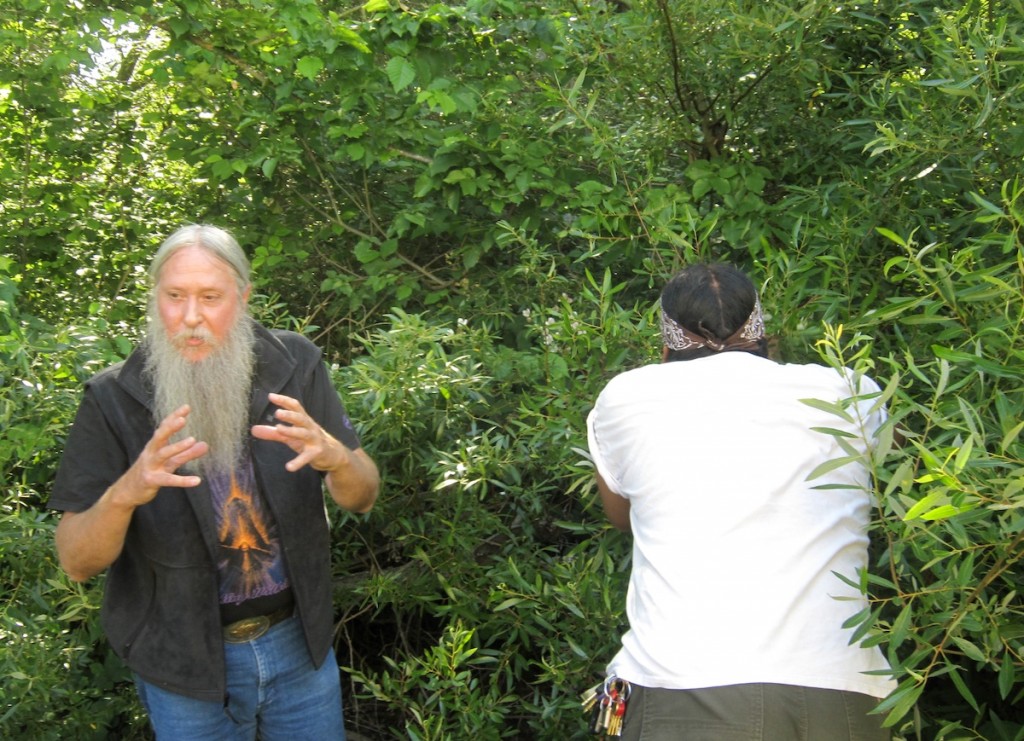 Jim "Doc" Hale in action. In the background: native willow and alder tree foliage.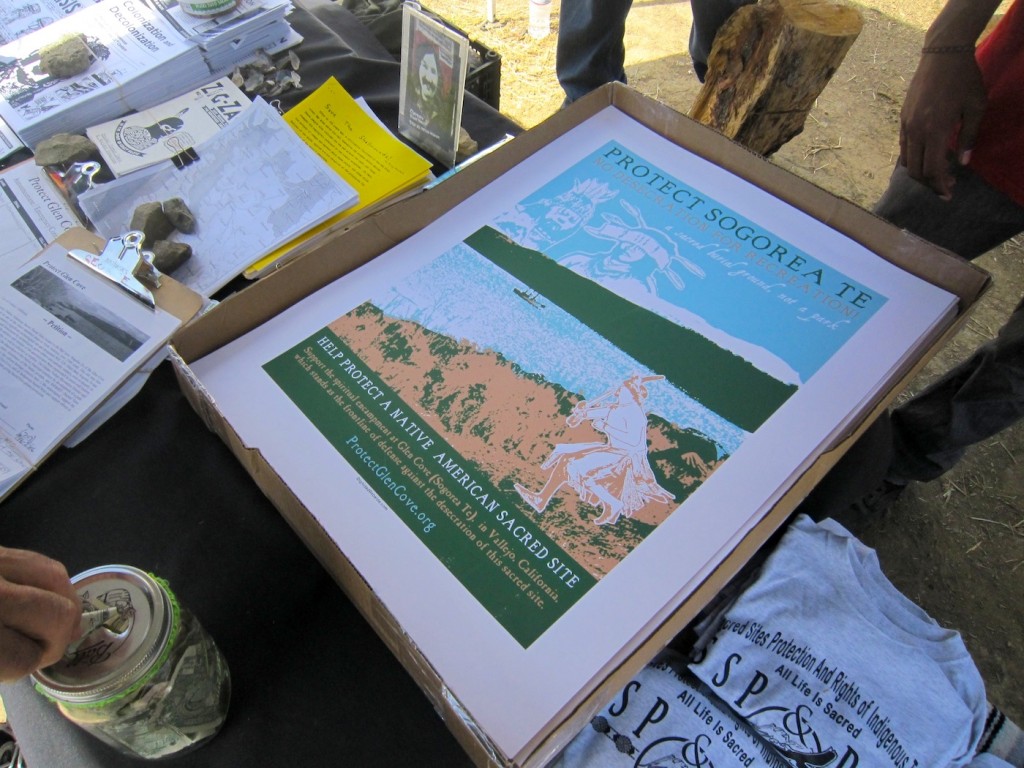 Reminder: These beautiful color screen-printed 20×26 card-stock posters are available for a donation of $25 or more. To request a poster, stop by the spiritual encampment at Sogorea Te anytime, or email protectglencove [at] gmail.com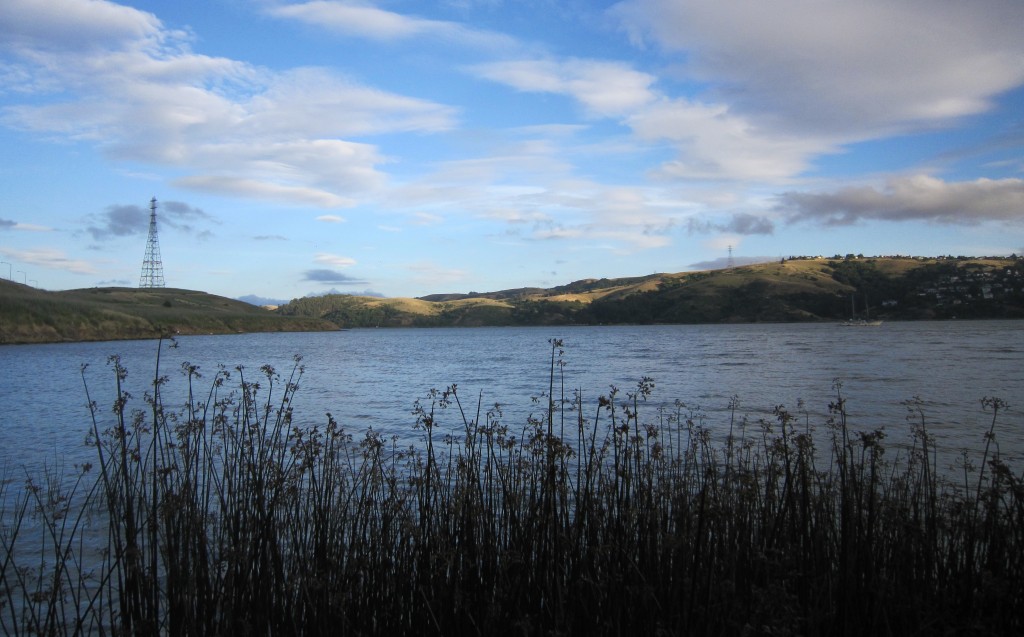 Video clip: Winnemem Wintu Ceremony at Glen Cove