Days 45-47: Over an eventful 3-day weekend,
participants in the ongoing ceremony at Glen Cove were inspired by an outpouring of community support in the form of many visitors, gifts of food and supplies, and cash donations. Over $800 has been raised since the request for donations we put out last Thursday. Our warmest thanks goes out to everyone who has been showing up and contributing.
On Saturday the 28th, a know your rights and legal observation training was held on the land, hosted by attorneys from the National Lawyers Guild. Later in the day, Mark Anquoe and Morning Star Gali of the International Indian Treaty Council held a 3 hour workshop and discussion at Sogorea Te, focused on the UN Declaration on the Rights of Indigenous Peoples. The discussion expanded to the topic of colonialism and how laws on various levels have shaped and enabled the continuing oppression of indigenous peoples. Treaty Council representatives explained that, significantly, the UN Declaration does not include any wording about "federally recognized" VS "unrecognized" tribes (such as the Ohlone), because "the power to define is the power to destroy".

Also on Saturday, Morning Star Gali (Pit River) spoke about Glen Cove to a very supportive crowd at the annual African Liberation Day event in Oakland. She sat on a panel alongside representatives from the Palestinian Youth Movement, the Nation of Islam, the Haiti Action Committee and the All African Peoples Revolutionary Party.
Day 46
On Sunday the 29th, numerous visitors arrived at Sogorea Te with donations of food, water, tents, and other needed supplies. These kind visitors included Monte Pereira (Miwok), Vanessa Huang, Lily Haskell, and representatives from the All African Peoples Revolutionary Party, the Umpqua tribe and the Berkeley Fellowship of Unitarian Universalists. At dinnertime, George Cammarota's Sicilian family brought delicious Italian food from their Italian restaurant in San Mateo.
J. Kehaulani Kauanui, Connecticut-based author of Hawaiian Blood: Colonialism and the Politics of Sovereignty and Indigeneity visited Sogorea Te and interviewed Corrina Gould (Ohlone) about Glen Cove. The interview was used as a feature for Kauanui's Indigenous Politics show on WESU radio. On Sunday evening, Morning Star Gali was a special guest at KPFA radio as part of KPFA's annual Heritage Month broadcast entitled "The IndoPacific Edge: Touching Africa, Asia, the Islands, & the Turtle Island". (Link to archived broadcast is here, Morning Star comes in at 26:25)
Day 47
At morning circle on Monday, Merle Whistler (Lakota), who has been standing with us for a few days, led a prayer in Lakota language. This prayer was followed by California prayer songs sung with clappers, in part to honor and see off two long term participants in the spiritual encampment who are now headed to Big Mountain, Arizona.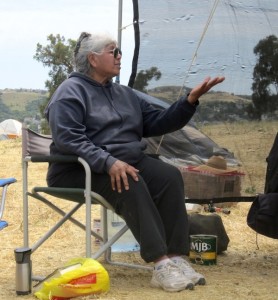 Above: Shirley Guevara (Mono) addresses group.
Below: Michael Lane (Menominee) gesticulates.
During lunch on Monday, Shirley Guevara (Mono) shared her personal story of the 1969 Occupation of Alcatraz Island, which she participated in until it ended in 1971. Grinning, Shirley told the group, "46 days? Don't complain about it being hard. You've got it so easy here. When you want something to eat, you can just go to the store. We couldn't do that. You have cellphones and laptops – we had nothing. Just word of mouth. The government thought they could just leave us alone, because how could we survive with nothing? Little did they know that we Indians are used to having nothing. On reservations, we're used to getting by on scraps. So we had to rely on people coming to help, people who could see that we were doing what's right. And they came."
Shirley explained that the government told them "we're not gonna do anything, we're not gonna take you out". Of course, after cutting off water and power to the island didn't end the occupation, the government did come and force everyone out. "I've only been back twice. It really hurts, every time I talk about it. All the prayers and energy and good things they took from us…maybe thats why it hurts."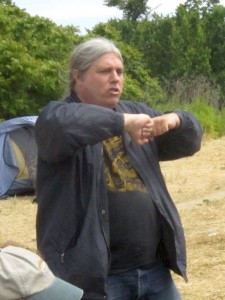 After Shirley Guevara finished her story, Michael Lane (Menominee Nation) spoke to the group about Aboriginal Title. Michael has been visiting for the past week and is a long time indigenous activist who traversed the entire country in 1978 as a participant in the original Longest Walk and holds a degree in Federal Indian Law. He contrasted the concept of inherent rights and responsibilities to that of delegated rights as defined by a European legal norm. Lane emphasized the importance of understanding and asserting true Aboriginal Title and Indigenous Sovereignty, so as to not unintentionally contribute to further "conquest by law". He explained that the indigenous concept of sovereignty as responsibility and respect is distinct from the European notion of sovereignty as a matter of power and control.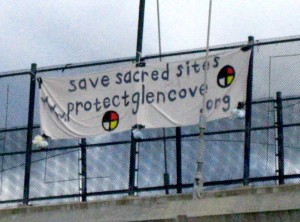 In the evening, John Malloy and Mia Tagano (organizers of the 500 Mile American Indian Spiritual Marathon) visited and brought supplies, including a new teepee canvas. Around 6:00pm, the Glen Cove Solidarity Working Group hung a large banner on an overpass above Interstate 80 in Berkeley. The banner reads "Save Sacred Sites, Protect Glen Cove [.org]" and has remained in place now for well over 24 hours, catching eyes during multiple rounds of rush hour traffic.
Latest media
A few photos from the weekend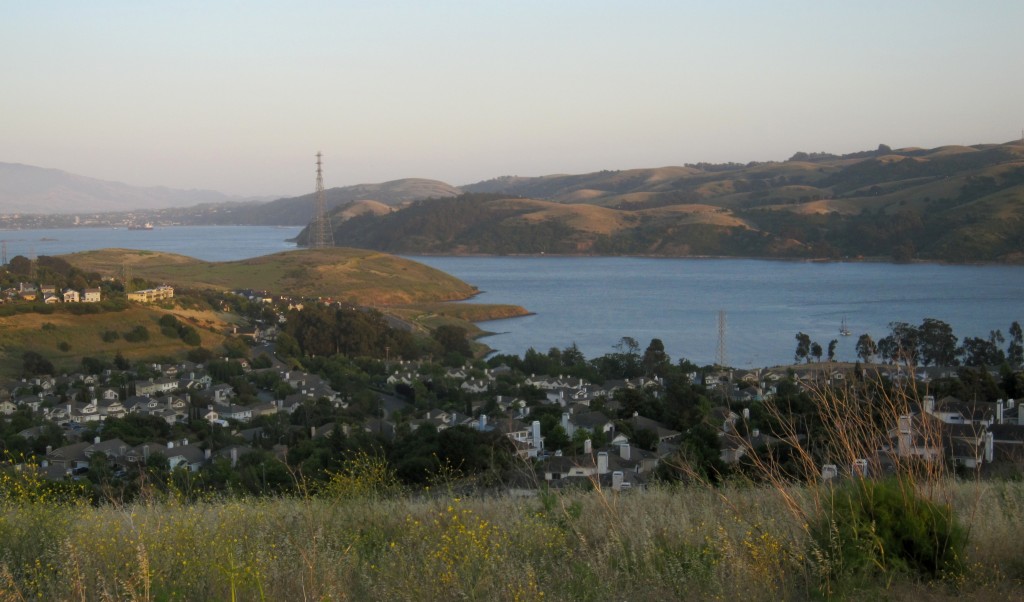 Looking down towards Glen Cove from atop a nearby hill.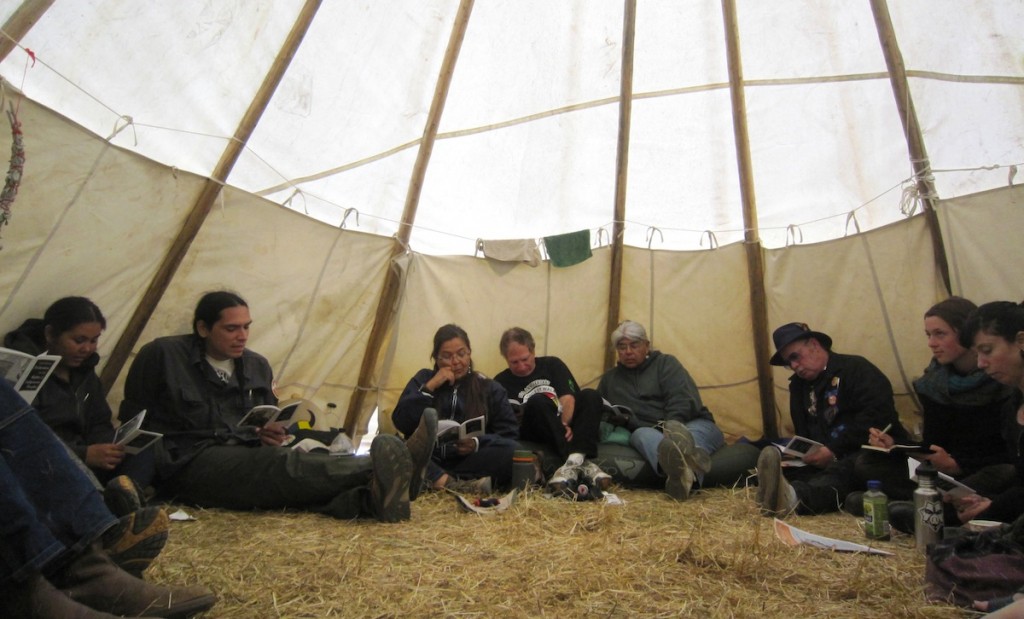 Reading and discussing the United Nations Declaration on the Rights of Indigenous Peoples.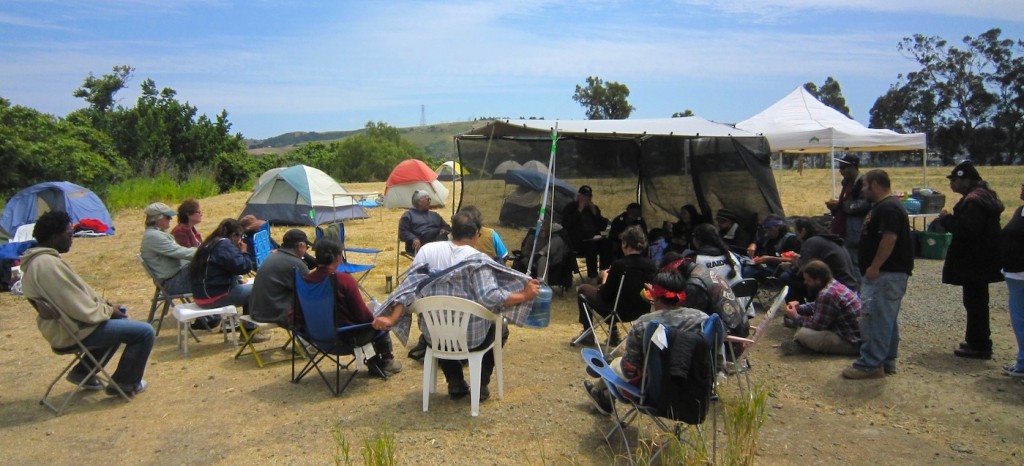 Listening to Shirley Guevara's story of the Alcatraz Occupation.