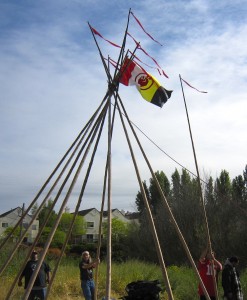 In other updates, Morning Star Gali met with traditional Patwin Tribe elders on April 22nd and received their blessings and support for our work of protecting Sogorea Te. Indigenous representatives from the Committee to Protect Sogorea Te are in the process of meeting with elders and tribal councilmembers of the other tribes/nations who have ancestral ties to Glen Cove.
The neighbor we mentioned in yesterday's update, who had approached the police to complain about our spiritual encampment, has since been standing beside us in a respectful way.
Requested support:
Photos, video and audio from Saturday's Earth Day gathering – please email footage to protectglencove [at] gmail.com
Transcriptions based on audio and video recordings of speakers at Saturday's gathering.
Letters/statements of support from neighbors, organizations, and political leaders.
Spanish language translation of the "About Glen Cove" page, and any other parts of this website
Firewood and food for the spiritual encampment
Your presence and your prayers at the spiritual encampment. All who come respectfully and prayerfully are welcome to join us at Glen Cove anytime.
Latest articles/ media:
Times-Herald, 4/24: Earth Day celebration centered around tribal land dispute
Times-Herald Op-Ed 4/24: The bottom line on Glen Cove
This site, 4/22: Another message from Seneca Wisdomkeeper, Edna Gordon, 90 years old
Indian Country Today, 4/23: Natives Occupy California Burial Ground to Stave Off Bulldozers
KTVU, 4/24: Federal Mediator Stepping Into Burial Site Dispute
Protect Glen Cove Committee 4/23: Response to Janet Roberson's 4/21 Times-Herald editorial