November 11th, 2009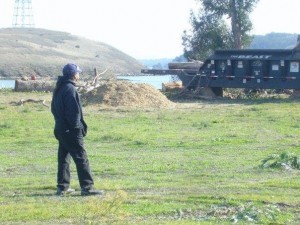 The sound of chainsaws along the Glen Cove waterfront Tuesday meant progress or sacrilege, depending on who you asked.
As crews cleared three sickened eucalyptus trees, local descendants of Native Americans stood on a nearby path and passed out brochures to passing residents, protesting what they viewed as the desecration of a sacred place.

Evidence of ancient burial sites and settlements has been found on the project site. Some artifacts have been housed in museums.
Nevertheless, the Greater Vallejo Recreation District's board approved the park's development in 2007. The first phase of development started last week.
"I've got to do something," Vallejo resident Gary Estes said Tuesday as he voiced his protest. "I can't just sit back and do nothing."
Workers have started removing non-native vegetation by cutting them down. In the weeks and months to come, crews will also use herbicides in culturally sensitive areas, GVRD officials said. The reason they gave was to protect buried remains and artifacts from being unearthed.
But that doesn't sit well with Norman "Wounded Knee" Deocampo of Vallejo's Intertribal Council.
"Our concern is they are going to spray those chemicals on our ancestors," Deocampo said. "As indigenous people, we believe we have a connection with Mother Earth … a connection with our ancestors."
Fliers were distributed last week after crews posted warning signs about the use of "Garlon 4" herbicide. Deocampo said he and other nearby residents passed them out to people entering the park site. The herbicide contains a petroleum-based solvent that may pose human health risks, such as eye and skin irritation, according to warning signs.
However, Steve Pressley, GVRD's maintenance and development manager, said the herbicide would pose little risk to people's health. Pressley said regulations would be followed to minimize vapor drift, such as avoiding spraying on windy days. The chemical does not require special permits to use, he added.
Nothing has been sprayed yet because park district officials are awaiting a permit from the Department of Fish and Game before removing non-native vegetation along a creek, Pressley said.
"So far there has only been tree pruning," he said.
The removal of nonnative plants — such as elms, acacias, Lombardy poplars and trees of heaven — was a condition of the project's funding through state grants. The $1.5 million project includes planting an array of native plants, according to the master plan.
Contact staff writer Tony Burchyns at tburchyns@timesheraldonline.com or (707) 553- 6831.