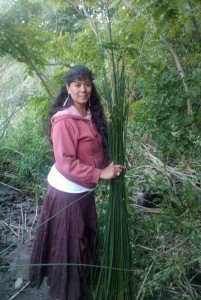 Monique Sonoquie (Chumash/Apache)
Day 83 on the land: Now in its 12th week, the prayerful
re-occupation of Sogorea Te continues with spirited determination. Every long, sweltering Summer day, dozens of Native people and their supporters re-affirm a commitment to honoring the ancestors and being active caretakers of the land.
Over the past week, hundreds of visitors of all ages and walks of life have continued to visit the sacred grounds of Glen Cove, bringing gifts, sharing kind words, and offering their prayers to the fire. While prayer remains the center of all our efforts, work is always continuing in the realms of public outreach and legal strategy. This is a critical time in the struggle to protect Glen Cove, and we are asking our central California supporters to attend the Vallejo City Council meeting taking place this Tuesday, the 12th.
On June 30th, Monique Sonoquie (Chumash/Apache) drove down with Richard Meyers (Yurok) from the Hoopa reservation in Northern California, bringing food, firewood, words of support, and a donation from the Klamath Justice Coalition. During her visit, Monique helped gather Tule reeds (Scirpus sp.) from the cove for use in basketry with her students at the Indigenous Youth Foundation. (careful thinning of the Tules encourages growth).
Thanks to everyone who answered the request for firewood. We are always in need of more!
On Saturday the 2nd, Galeson Eaglestar (Oglala Lakota) circled around the drum with singers and members of security to teach them a song that he wrote in his native language. Galeson wrote the song to honor the ancestors at Sogorea Te and the work of everyone making sacrifices to protect the sacred grounds.
Throughout the past few weeks, Corrina Gould (Ohlone), Wounded Knee DeOcampo (Miwok) and Morning Star Gali (Pit River) have spoken about the struggle to protect Glen Cove at numerous public events throughout the Bay Area. A recent benefit concert in San Francisco raised $700 for the Emergency Defense Fund. The next scheduled Bay Area event will take place at the Intertribal Friendship House in Oakland this coming Friday the 8th. It will be a film screening and speaking event, hosted by Wounded Knee DeOcampo and Corrina Gould.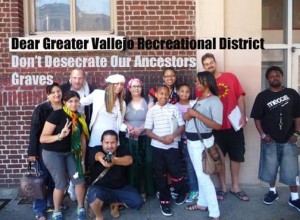 POOR magazine, an Oakland-based grassroots arts/media/education organization, has published a collection of letters and poems by their youth and adult students, entitled "Greater Vallejo Recreation District: Don't Desecrate Our Ancestors Graves". The online collection includes a video in which some of the authors read their letters and poems out loud. POOR magazine states, "we stand in solidarity with the occupation by indigenous peoples at Glen Cove and will offer media and resources until there is a peaceful conclusion that secures the safety of the sacred shellmound."
On Sunday the 3rd, a Lakota radio station broadcasting live from the Rosebud Reservation in South Dakota interviewed Wounded Knee DeOcampo (Miwok), Corrina Gould (Ohlone) and five other participants in the ongoing prayer gathering at Sogorea Te. The entire two hour show is archived online in mp3 format here. The show starts at 7:04, Sogorea Te becomes the topic at 30:08, and Corrina Gould comes in at 42:55.
Ray Richardson's story: Making a stand at Glen Cove
Yesterday, Ethnic Studies professor and Glen Cove resident Ray Richardson visited Sogorea Te and spoke to a circle of about 35 vigil participants. Ray shared that he lives on the hill overlooking Glen Cove (on Sand Dollar Drive), and that in 1992, he found out that a developer (The Zeka Group) was planning to level the hill just behind his property in order to build 33 two and three story luxury townhouses (the "Harbor Homes 2" complex on W Shoal Drive). He explained that while at first he was opposed to this development because it would remove the majority of his backyard and degrade the land beyond, he became even more concerned when he found out that Glen Cove is a well-documented Native American burial and cultural site.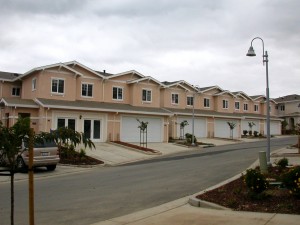 Ray filed multiple lawsuits against the Zeka Group in an effort to stop this destructive development. He also addressed the Vallejo City Council and Solano Board of Supervisors urging them to halt the project, and informing them that Glen Cove is a documented Native American site. Interestingly, he also stated that GVRD was "strongly supporting" this development at the time.
In the end Ray could only held them off for six months – he came home one day to a chain-link fence and massive bulldozers tearing through the ground. Years later, Ray was able to collect $180,000 from the developer for damages to the foundation and structure of his home. As part of their proposed Waterfront Park project, GVRD is now attempting to bulldoze/grade down the remainder of the hill south of these new apartments.
Ray also informed the group that he has continued to go door door in the Glen Cove neighborhood, collecting signatures of residents who are opposed to the park project. He says that everyone he has spoken to on his street doesn't want the park, and that he would estimate that as many as 90% of Glen Cove residents are also against it.
Recent articles:
Some photos: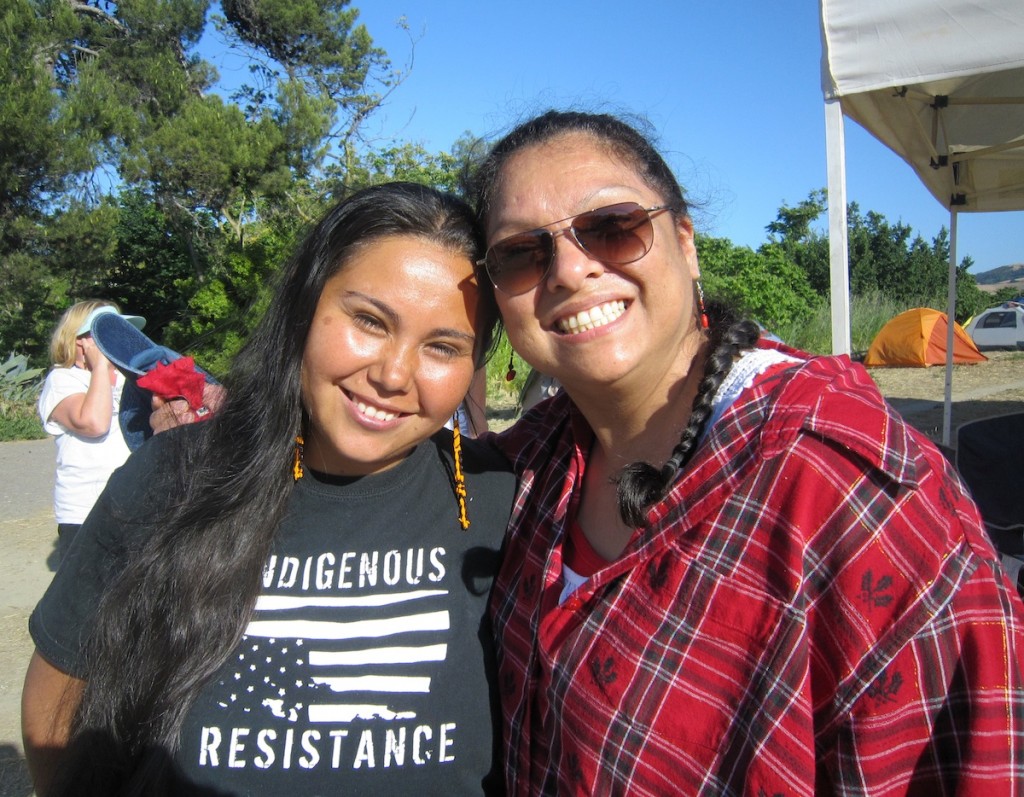 Fawn Oakes (Kayshia Pomo/Mohawk) and Morning Star Gali (Achumawi Pit River) at Sogorea Te. Fawn is the daughter of Alcatraz occupation veterans Richard and Annie Oakes. She visited with her son Elijah Oakes to offer support.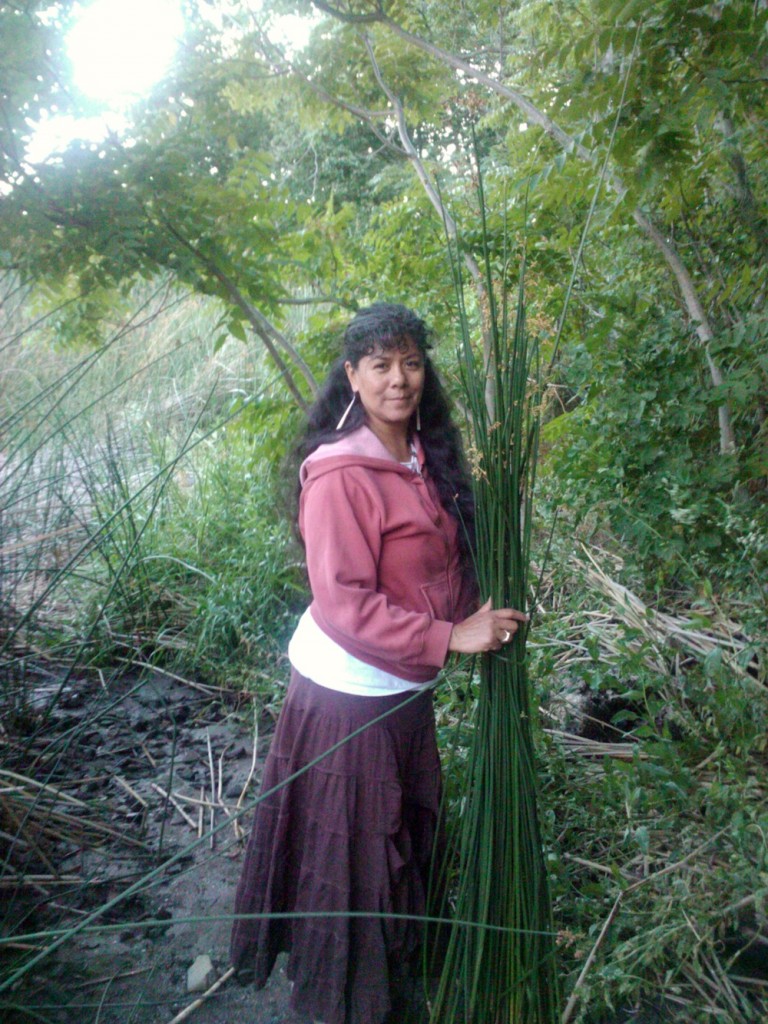 Monique Sonoquie (Chumash/Apache) gathering Tule reeds at Glen Cove for use in basketry with her students at the Indigenous Youth Foundation.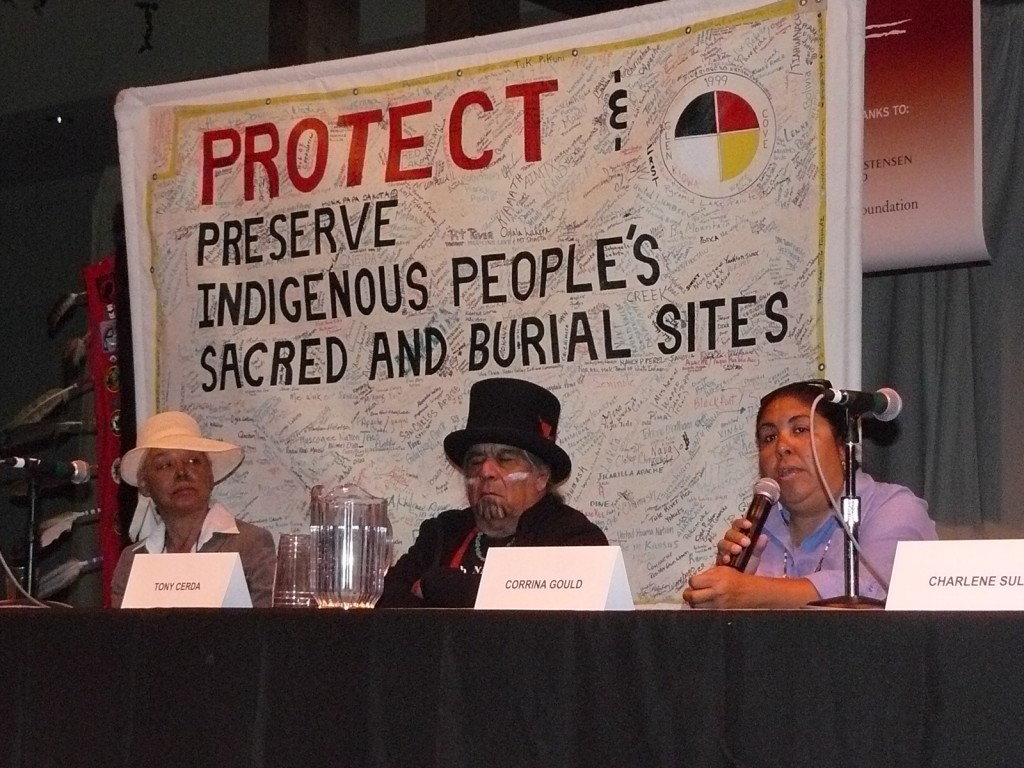 Corrina Gould speaking on a panel of Ohlone people at the Yerba Buena Center for the Arts in San Francisco, alongside Ann Marie Sayers, Tony Cerda, and Charlene Sul.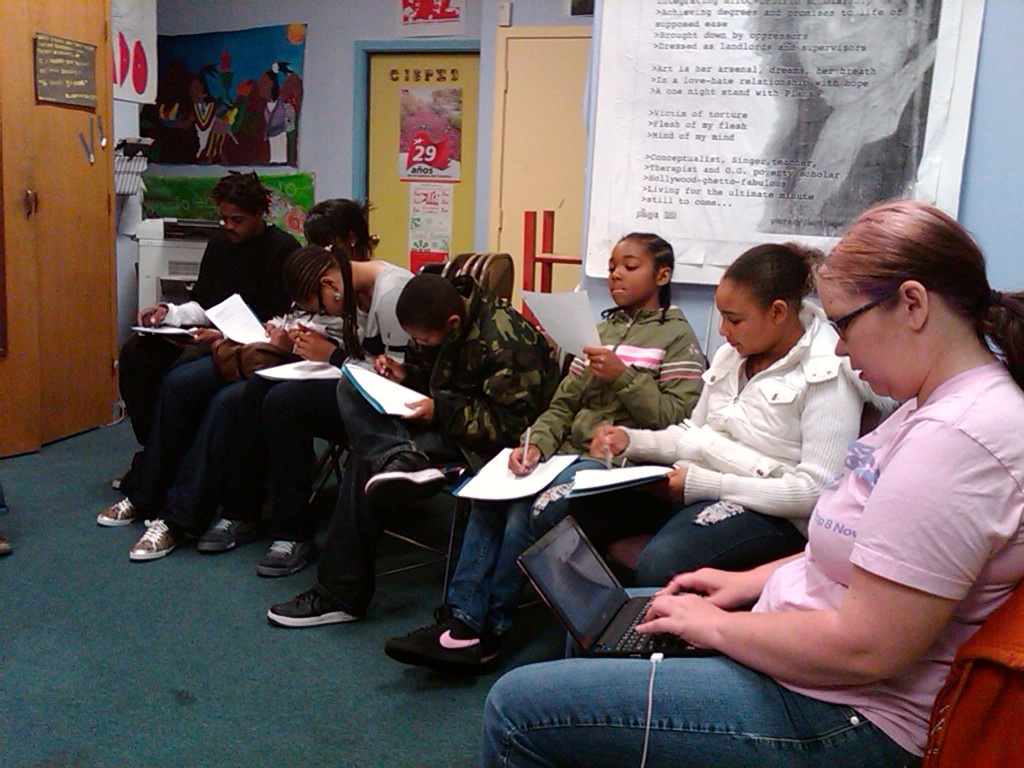 Students of POOR Magazine's Revolutionary Youth Media Education Program (RYME) composing letters and poems for GVRD.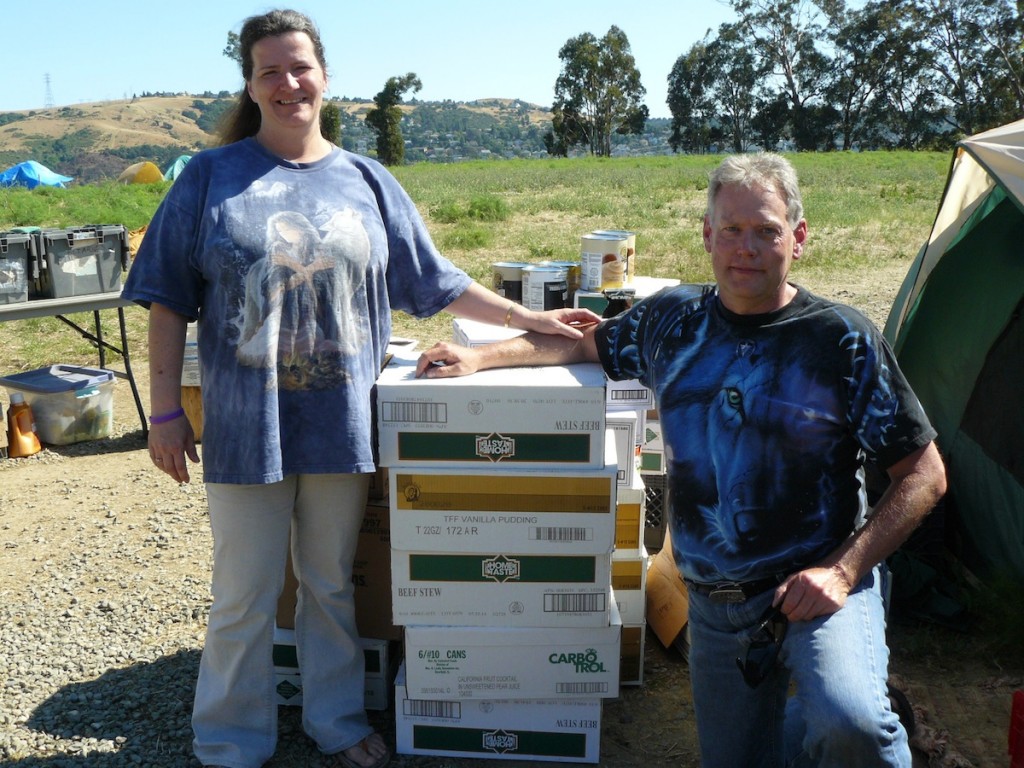 Belinda Kirk and Archie Overton kindly donated a mountain (3 dozen boxes) of canned goods, along with a load of firewood and water.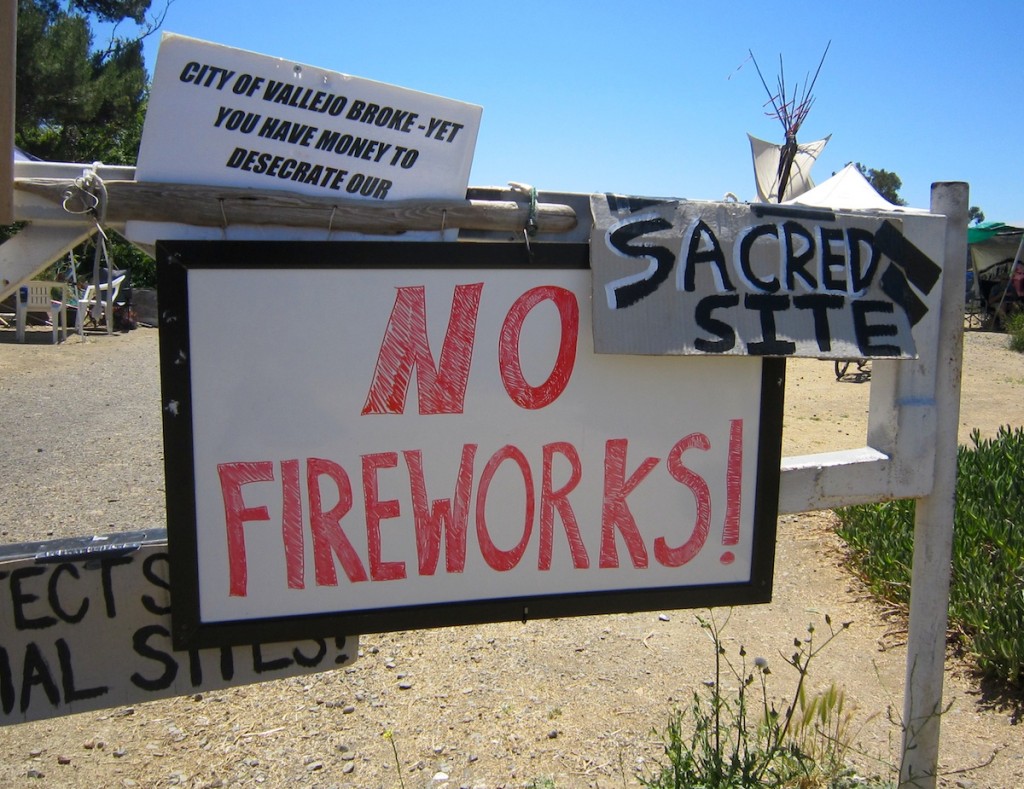 Security stood by the gate to help convey the "no" part to various inebriated 4th of July visitors.