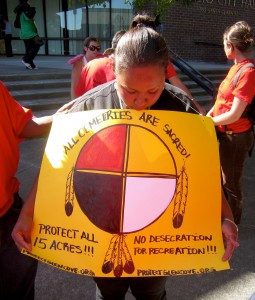 At 6:30pm this Thursday (today), the Greater Vallejo
Recreation District (GVRD) will be holding a board meeting at their headquarters (395 Amador St) in downtown Vallejo. Representatives of the Cortina and Yocha Dehe tribes will be present to discuss proposals with GVRD regarding the future of Glen Cove, and GVRD board members will discuss "…action regarding the construction of the Glen Cove Nature Area".
The Protect Glen Cove Committee is requesting that people attend this GVRD meeting in order to express support for a binding agreement that will meaningfully protect all 15 acres of the Glen Cove sacred burial grounds. We are in support of a cultural easement or other agreement that would stop plans for a parking lot and toilets and would prevent bulldozing on the West side of the cove.
Please arrive at 6:00pm sharp. We will be gathering in front of the building prior to the meeting. Wear red shirts!
GVRD headquarters is located at 395 Amador St. Click here to locate it on a map. For directions from your location, go to the map and click on "Get Directions", or use these prepared directions:
From I-80 in either direction, take exit 29A for Sonoma Blvd/CA-29 and merge on to Sonoma Blvd. Turn right onto Solano Ave, then left onto Amador Street. GVRD will be on the left at 395 Amador.