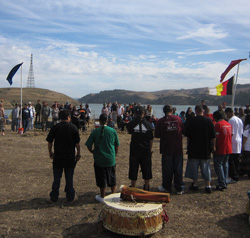 We are calling for an ASSEMBLY of all Warriors to gather at 5:00pm on April 14, 2011 at Glen Cove. Please arrive by 7:00pm at the latest. There will be a prayer ceremony to honor the ancestors the following morning (Friday 15th) at 8:00am.
The Protect Glen Cove Committee and the Board of Directors of Sacred Sites Protection and Rights of Indigenous Tribes (SSP&RIT) have received information that leads us to believe that the desecration of Glen Cove could begin as soon as April 15, 2011.
SSP&RIT will host a prayer ceremony on site. Be prepared to actively protest this assault at Glen Cove. Cameras and video cameras are a must, if you have them. Walkie-talkies are needed for communications. Bring you cell phone chargers.
Bring you sacred medicine and join our prayer circle at Glen Cove. If you can't make the trip, please make a phone call and keep the phone lines of GVRD and the City of Vallejo busy. (see numbers here)
ALL WARRIORS WHO WILL ANSWER THIS CALL: This is a NON-VIOLENT and PEACEFUL protest. NO WEAPONS, NO DRUGS, NO ALCOHOL!
Reminder: All frontline supporters who have not registered are urged to send their e-mail and cell phone # to: secretary.ssp_rit [at] yahoo.com